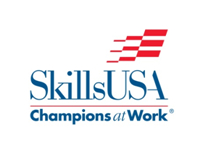 Leesburg, VA (PRWEB) April 28, 2014
SkillsUSA, the organization that represents the United States in the WorldSkills Competition, sent two career and technical education students and members of the SkillsUSA WorldTeam to Bogotá, Columbia, April 2-5, 2014, to compete in the WorldSkills Americas competition. They will be also competing in the WorldSkills Competition to be held in São Paulo, Brazil in August 2015.
Jake Wozniak from Springville, N.Y. and a student at Marc Adams School of Woodworking competed in cabinetmaking and Mike Mullen from San Luis Obispo, Calif. and a student at Cuesta College competed in automobile technology. Both students received a silver medal in the competition and, in addition, Mullen received "Best in Nation."
Also attending the competition were Robert Tobias, cabinetmaking technical expert from Thaddeus Stevens College of Technology, Lancaster, Pa., Mike Elder, automobile technical expert from Pittsburg State University, Pittsburg, Kan., and Scott Norman, technical delegate from Pittsburg State University, Pittsburg, Kan.
WorldSkills Americas (WSA) is a not for profit, non-governmental organization. Its primary objective is to improve the quality of vocational education by the means of exchanging information and best practices among North America, Central America and Caribbean, and South America countries, and by involving governments, industries, commerce and vocational education and training organizations/institutions.
The WorldSkills Americas, with the cooperation of its member countries, organizes a biennial competition focused on vocational training in one of its member countries. The first competition was held in 2010 in Rio de Janeiro.
The WorldSkills Americas operates in conjunction with the WorldSkills International.
The WorldSkills Competition (WSC)
SkillsUSA is a member of WorldSkills International headquartered in Amsterdam, Netherlands. This organization sponsors the biennial WorldSkills Competition (WSC). Participation in the WSC has provided a vehicle for comparing our career and technical students and methods of training with that of our major free-market competitors. The training technologies displayed at the WSC exemplify the ultimate standard in skilled workforce preparation. As such, they offer important lessons for technical instructors and for SkillsUSA's corporate partners, whose productivity depends on employees with up-to-date skills. WSC results are one of the benchmarks by which a country's global economic competitiveness can be judged.
WorldSkills was founded in 1950 and currently has members from 48 countries, with efforts constantly being made to expand the membership. In 1973, President Richard M. Nixon recognized SkillsUSA (then known as VICA) as the official organization representing the United States. Only one organization may represent a country in the official delegation and certify that country's international contestants. To learn more about the WorldSkills Competition, go to http://www.worldskills.org.
About SkillsUSA
SkillsUSA helps students discover and grow their career passions. As a nationwide partnership of students, instructors and industry working together, SkillsUSA works to ensure America has a skilled workforce. It helps every student excel. The nationwide career and technical education student organization annually serves more than 300,000 high school, college and postsecondary students—and their instructors—in technical, skilled, and service occupation instructional programs. Career and technical education is learning that works for America. SkillsUSA has the active support of more than 600 corporations, trade associations, business and labor unions at the national level. Over 11.2 million people have been annual members of SkillsUSA since its founding as the Vocational Industrial Clubs of America in 1965. SkillsUSA programs teach leadership, citizenship and character development to complement technical skill training. The organization emphasizes respect for the dignity of work, ethics, workmanship, scholarship and safety. For more information, go to http://www.skillsusa.org.
For more information about the WorldSkills Americas Competition, go to http://www.worldskillsamericas.com. For more information on the upcoming WorldSkills International Competition, visit http://www.worldskills.org.
SkillsUSA must raise the money for each competitor to train for and travel to the WorldSkills Americas Competition and the WorldSkills Competition. To donate funding or in-kind support, please go to http://skillsusa.org/compete/worldteamdonate.shtml.
For information about SkillsUSA, contact Tom Holdsworth at 703-737-0607, THoldsworth(at)skillsusa(dot)org or Jane Short at 703-737-0612, jshort(at)skillsusa(dot)org.
###