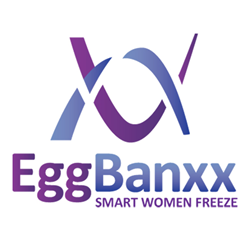 Through EggBanxx, it's important to us that the patient knows she can have both a high quality of care and a reasonable price point.
New York, NY (PRWEB) April 22, 2014
EggBanxx, FertilityAuthority's new egg freezing program, is honored to be featured in Bloomberg Businessweek's cover story this week about egg freezing. Egg freezing is becoming a viable option for women of reproductive age who are not ready to have children, offering the hope that they'll be able to use those eggs when they are ready. While there are marketing companies that offer cost savings for IVF, EggBanxx is the first one in the rapidly growing egg freezing marketplace. EggBanxx was started less than two months ago and is quickly gaining market share in the industry.
By using a fertility clinic in the EggBanxx network, patients can save up to 15% on egg freezing costs. Savings are offered to the patient in exchange for volume to the fertility clinic. The Bloomberg piece points out that it can cost $10,000 to freeze your eggs, and that EggBanxx "negotiates discounts" on patients' behalf.
"I'm not a huge fan of the term 'discount' because I don't want patients to think that a reduction in fees equals a reduction in quality of care. Through EggBanxx, it's important to us that the patient knows she can have both a high quality of care and a reasonable price point. 'Discount' is simply a more indicative term than the term 'financing' that's previously been used by companies when referring to programs that help lower costs to patients," says Gina Bartasi, founder and CEO of FertilityAuthority. "Our shared goal as an industry is to help more patients be biological parents if they want to be, and if we can play a small role in that by helping patients find extraordinary care in an economical way, then that's absolutely our mission." she adds. "Egg freezing is still expensive, but every bit of savings helps".
Egg freezing is changing the demographics of women who use the services of fertility clinics and therefore broadening the patient base. "One in three of all fertility clinics, and certainly almost every major clinic in the country, already partners with one of these marketing companies, so EggBanxx is an easy concept for the doctors to agree to." Bartasi says.
EggBanxx is part of the FertilityAuthority brand of websites, with more than1 million visitors monthly -- the largest volume of any fertility website in the world.
To read the full Businessweek article: http://www.businessweek.com/articles/2014-04-17/new-egg-freezing-technology-eases-womens-career-family-angst#p4.
To learn more about joining the EggBanxx network of fertility treatment centers, email EggBanxx at info(at)EggBanxx(dot)com or call 646-350-0748.
About FertilityAuthority
The FertilityAuthority family of websites provides comprehensive, interactive resources and referrals for women and men seeking quality fertility information, as well as tools to simplify the search for trusted fertility doctors or fertility clinics. With more than one million monthly visits, the websites FertilityAuthority.com, FertileThoughts.com, IVFAdvantage.com, EggFreezingCosts.com, EggBanxx.com, GenderSelectionAuthority.com — along with a staff of patient care coordinators — assist in making the important connection between patients and the physicians who can assist them in their family-building efforts.
ivfa