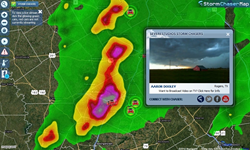 Severe weather is the number one driver of traffic to local media websites. This map gives sites a way to engage their viewers with captivating video.
Minneapolis, Minnesota (PRWEB) April 24, 2014
This spring, as severe weather spreads across the country, media websites will be able to offer the nation's many weather enthusiasts an easy way to be armchair storm chasers. Through an interactive map, viewers can conveniently watch dozens of live video streams from dashboard cameras of storm chasers roving the United States.
"Severe weather is the number one driver of traffic to local media websites," says Geoff Cornish, Vice President of Business Development at ZoomRadar. "This map gives media companies a chance to offer leading edge technology directly on their sites and to truly engage their visitors with exhilarating tornado chases."
"Whether you are a weather enthusiast or not, there is a natural curiosity about nature's most powerful storms, says Kory Hartman, President of Severe Studios. "This provides the opportunity for media organizations and other information-based websites to add a captivating and unique feature."
The map technology is available through the web as well as mobile devices. The interactive map can be viewed at ZoomRadar.com.
The new technology was developed through a partnership between Severe Studios and ZoomRadar. Severe Studios is comprised of the world's premier storm chasing team, with hundreds of certified storm spotters from across the country. ZoomRadar is the Internet's first interactive radar company and serves more than one hundred media websites.