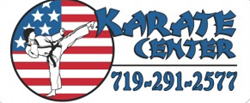 Colorado Springs, CO (PRWEB) April 23, 2014
The Karate Center, a martial arts studio in Colorado Springs, Colorado recently announced they are now offering a new student special in addition to expanded class schedules and programs. This limited time offer allows students to receive four weeks of unlimited classes for $19.99. This special also includes a new uniform at no extra charge.
The Karate Center announced the new student special in an effort to showcase their expanded martial arts class schedules, events, and programs. The expanded schedules include more youth events, including seminars, parties, awards banquets, board breaking nights, leadership programs and tournaments.
In addition to expanding their class schedules, the Karate Center has expanded their selection of martial arts programs to include their "Little Warriors" program. This program is specifically designed for students under 7 years old and focus on developing hand eye coordination, social skills, confidence, respect and other life skills. This is their latest offering in a variety of programs that seek to improve the overall health and well-being of students as well as increase their focus, self-discipline, and self-defense skills.
Tony DeGeorge, owner of the Karate Center, says that their programs are specifically designed with a comprehensive curriculum and positive reinforcement philosophy that allows the student to build upon their skills systematically and accommodate their personal pace of training.
As a leader in martial arts instruction in Colorado Springs, the Karate Center offers a wide array of martial arts program for any age and skill level. The Karate Center's programs provide effective self-defense skills, increased physical fitness, and improved focus and concentration.
For additional information about the Karate Center, their new student special, or their expanded program offerings, visit http://www.cskaratecenter.com or call 719-291-2577.