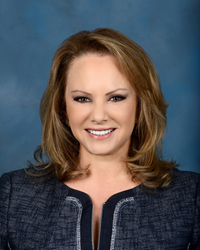 Continental National Bank Appoints Jacqueline Dascal Chariff as New Chairman
Miami, FL (PRWEB) April 24, 2014
Continental National Bank, the first Cuban-American-chartered national bank in the United States, appoints Jacqueline Dascal Chariff as its new chairman to lead the bank into the forefront of the industry as the bank celebrates its 40th year of business.
While maintaining the essence of their cultural and traditional banking roots, Dascal Chariff's initial steps include rebranding the company and its website as well as devising new strategies to reach a broader client base.
"From commercial real estate, to the loan you need for your business, or a student's first account, we continue to cast a wider net," states Dascal Chariff. "My father believed in providing the right financial resources to the community so that it could succeed and that is the maxim that we continue to take to heart at Continental National Bank. His direction led the bank to a prestigious five-star 'superior' rating by BauerFinancial as well as to being named one of the top 25 SBA lenders by the South Florida Business Journal, and we understand that his foundation is what made Continental National Bank what it is today." Under the Federal Deposit Insurance Corporation (FDIC), Continental National Bank is considered one out of only 174 Minority Depository Institutions (MDI) in the country, playing a unique role in promoting the economic viability of under-served communities.
As Chairman, Dascal Chariff leads the bank's board of directors and oversees the bank's business development, marketing, communications and branding strategies. The first line in her agenda has been modernizing the website, adding a financial calculator and community engagement portal, as well as ensuring that the site is fully bilingual. A mobile application is in the works, to be launched later this year, giving clients full banking functionality in the palm of their hands.
"Our clients are changing, and as a business, we are changing with them," continued Dascal Chariff. "We will always offer the personalized service and care we are known for, that is just part of our culture, but by upgrading our digital functionality and look, we provide services that better fit into the lives of our clients."
Dascal Chariff is working closely with Continental National Bank's President and CEO, Guillermo Diaz-Rousselot. As a team, the two strive to maintain that local bank feel while offering services that are needed in today's business environment.
"Continental National Bank has always been a family run business and Jacqueline's new role will give us all the opportunity to carry on her family's legacy, while her experience will streamline the bank in ways that will ensure success for generations to come," said Diaz-Rousselot; who has been an integral member of the Continental National Bank team for 38 years.
Prior to her role as Chairman of Continental National Bank, Dascal Chariff served as a director on the board of the bank for more than 10 years. She has been instrumental in the decisions and strategies successfully executed by the bank. Dascal Chariff is also seasoned entrepreneur with more than 30 years of experience in the marketing and distribution of leading international consumer brands.
About Continental National Bank:
Continental National Bank is a full-service community bank established in 1974 in Miami as the first Cuban-American-chartered national bank in the United States, serving its customers for 40 years. With seven branches conveniently located throughout Miami-Dade County and with more than $350 million in assets, Continental National Bank was awarded the five-star "superior" rating by BauerFinancial and also has been rated "Outstanding" in their Community Reinvestment Act evaluation for the past six years by their regulatory agency. The bank offers a full range of financial products and services for retail, business and institutional clients. Continental National Bank was named one of the top 25 SBA lenders by the South Florida Business Journal. For more information, please visit continentalbank.com.
###
Press Contact
Jessica Drouet
786-433-4069