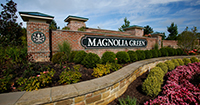 Richmond, Virginia (PRWEB) April 22, 2014
The 2014 Richmond Homearama is just around the corner and Timmons Group will be the official sponsor of the VIP Preview Party on Saturday, April 26th from 5:30 p.m. – 8 p.m. At one of the firm's premiere residential developments, Magnolia Green, the event is organized each year for individuals looking for a dream home, wanting to build a new home, or getting ready to remodel.
As part of the 2014 Homearama event, the Preview Party will begin with an awards ceremony and a tour of seven fully-furnished and decorated homes followed with Heavy hors d'oeurves. Fahrenheit Financial and Hirscheler Fleischer will sponsor the musical entertainment provided by the band, "The Usual Suspects." Reservations are required and all proceeds will benefit the Richmond Metropolitan Habitat for Humanity. Reservations can be placed by visiting http://www.hbar.org/events.
This year's Homearama event will take place May 1- 18, 2014, Monday – Thursday from 11 a.m. – 6 p.m. Many exciting activities will be held throughout this timeframe and includes a tour of seven showcase homes, over thirty unique product displays in the home idea center, as well as homemade refreshments. In addition, there will be Special Events which include a REALTOR® Day, Beer & Bluegrass Weekend, Wine & Jazz Weekend, Family Fun Weekend as well as a Furniture & Accessory Sale. For more information on the full calendar of events, please visit http://www.richmondhomearama.com/calendar/.
Timmons Group is the principal design and development consultant for Magnolia Green, one of Richmond's largest master-planned communities. Located along Hull Street Road in Chesterfield County, VA, lower Magnolia Green is a 1,900 acre community zoned for 3,500 residential units and over ½ million square feet of commercial, retail and office space. The development also encompasses an activity center, open space and golf course, school and park areas. Today, phase one of the project is nearing completion and phase two is under development, in addition to the construction being underway for the Welcome Center, back 9 holes of the golf course and the traffic signalization on Hull Street.
About Timmons Group
Timmons Group is a multi-disciplined engineering and technology firm recognized for nearly twenty years as one of Engineering News Record's (ENR) Top 500 Design Firms in the country. The firm provides Economic Development, civil engineering, environmental, GIS/geospatial technology, landscape architecture and surveying services to a diverse client base. Headquartered in Richmond, Virginia, Timmons Group has regional offices throughout Virginia and North Carolina. For more information, visit http://www.timmons.com.
Media contact:
Tim Klabunde
Director of Marketing
tim.klabunde(at)timmons(dot)com