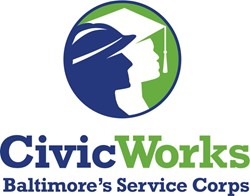 We are proud to serve Baltimore by facilitating tangible, long-lasting energy reduction changes throughout the community.
Baltimore, MD (PRWEB) April 23, 2014
Over the past seven years, Civic Works, through its programs, Project Lightbulb and the Baltimore Energy Challenge, has upgraded thousands of homes around the city. On Earth Day, an important milestone was reached when the 5000th Baltimore City home was upgraded.
This free community service has two areas of focus: educating Baltimore City residents about ways to reduce energy through behavior modification, and installing energy efficient products in the home. These Civic Works' programs enable residents to save money while making a positive impact on the planet.
When upgrading a home, the Civic Works team delivers a robust energy reduction plan that includes replacing light bulbs with CFLs and LEDs, wrapping hot water heaters, insulating hot water pipes, replacing shower heads with low flow systems, and installing carbon monoxide detectors. Civic Works also provides residents with a wide variety of energy-saving devices that include power-strips, timers, and nightlights with sensors, as well as radios and flashlights for emergencies.
"We are proud to serve Baltimore by facilitating tangible, long-lasting energy reduction changes throughout the community," stated Earl Millett, Chief Operating Officer of Civic Works. "This free program reduces energy bills for residents by up to 20 percent, helps communities lower their yearly energy usage by as much as 13 percent, and provides job skills training for Baltimore City residents who can now participate in the green economy. We're thrilled to promote energy conservation on Earth Day and every day."
Civic Works held a ceremony to mark this achievement when 2133 East Federal Street, the 5000th home serviced by the program, was upgraded on April 22nd. After a press conference, Civic Works joined a community gathering at Baltimore City's Annual Sustainability Town Hall Meeting to discuss environmental impact initiatives and celebrate the city's progress.
###
Civic Works is Baltimore's urban service corps and an AmeriCorps program. Our mission is to strengthen Baltimore's communities through education, skills development, and community service. Civic Works AmeriCorps members tutor and mentor students, create community parks and gardens, help homeowners conserve energy, grow food for low-income residents, rehabilitate abandoned houses, involve families in Baltimore City schools, make homes safer for older adults, and recruit volunteers. Civic Works also trains Baltimore residents for employment in the healthcare and green job industries. For more information, please visit http://www.civicworks.com.