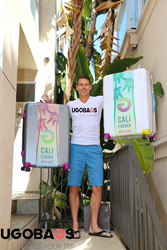 Ugobags launches new customized luggage concept on Kickstarter April 29th.
Santa Monica, CA (PRWEB) April 23, 2014
Ugobags.com, a new, innovative web site concept, is offering a solution for travelers that want to customize the look of their polycarbonate, super lightweight, four-wheel spinner luggage, and launches on Kickstarter.com, a popular crowd funding platform on April 29 through May 29, 2014. After the Kickstater campaign is complete, Ugobags opens its website for customized luggage online ordering.
There are three options for customizing luggage: consumers can upload their own photo or design that becomes the main image on the luggage, or enter text only as a design, or choose already made designs created by Ugobags designers. Ugobags will serve the US market initially. Rick Ralph, Ugobags co-founder, stated, "In addition to making great personalized gifts, Ugobags are a powerful marketing tool for groups or businesses. Ugobags luggage is a traveling billboard for anyone. We now allow travelers to marry art with function."
The all-new Ugobags are ultra lightweight, four-wheel spinner, polycarbonate hard-case luggage that comes in black, white or silver casings. The bags are available in three sizes of small carry-on, medium, and large. Travelers can also choose eight colors for luggage components, creating a highly personalized luggage product. "Ugobags are among the lightest hard case luggage on the market and are extremely durable. They bring a fashion forward sense of style to a generic luggage market. Ugobags is creating a luggage revolution," said Mr. Ralph.
"We are now in a position to get customized luggage to people that want it and it's really cool to be able to go online and make your luggage vision a reality," added Mr. Ralph. The Ugobags team spent the last year building prototypes of its customized luggage and is launching their product on Kickstarter.com on April 29, 2014.
The entrepreneurial Ugobags team's backgrounds qualify them as travel bums. They know both domestic and international airports and hotels and luggage. Their lives are packing and unpacking. They are all international frequent flyers that met overseas in a very foreign land far away. By default, this makes them experts in knowing the elements that people want to see in luggage. They have varied cultural roots and professional backgrounds, ranging from designers, product manufacturing and business management, making a highly complementary team. As a team, Ugobags bring functional design, while the customer perfects the form of their luggage through the online customization process.