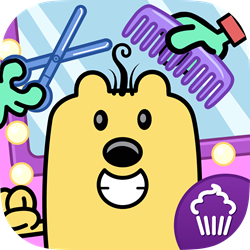 NEW YORK, NY (PRWEB) April 24, 2014
Today, Cupcake Digital has released its latest app inspired by the wonderful world of the Emmy® Award-winning Nick Jr. television series Wow! Wow! Wubbzy!. In Wubbzy's Beauty Salon, Wubbzy and friends get red carpet ready for a night out in Wuzzleburg. Kids help wash, style and primp their choice of nine kooky characters with a choice of nail, make-up, hair, or spa treatments. Then they get in on the dance party action when each treatment is completed. The app is available today in the App Store, Amazon Appstore for Android, Google Play and for NOOK, Tabeo and Nabi devices for an introductory price of 99 cents (full price at $2.99).
Young fans can embark on many Wubbzy-related adventures in over 20 top-rated apps, including Wubbzy's Dinosaur Adventure, Wubbzy's Pirate Treasure, Wubbzy's Space Adventure, Wubbzy's Train Adventure and many more. Parents can find free downloadable worksheets and recommended activities for learning in the Education Corner on http://www.CupcakeDigital.com.
NOTE TO MEDIA: Screen grabs, video clips, and promotion codes available upon request.
###
About Cupcake Digital
Founded in 2012, Cupcake Digital, Inc. gives kids the opportunity to interact with the characters they love by transforming children's entertainment properties into award-winning apps. The Company's apps are consistently top-ranked on the Apple App Store, Amazon Appstore for Android, Google Play and the Barnes & Noble NOOK Store. Cupcake's licensed IP portfolio includes Wow! Wow! Wubbzy!, Jim Henson's Fraggle Rock, Strawberry Shortcake, VeggieTales, Yo Gabba Gabba!, Animal Planet, The Smurfs, Sid the Science Kid, Barney, Mike the Knight, Cloudy with a Chance of Meatballs, Puss In Boots, How To Train Your Dragon, Madagascar, Shrek, and Kung Fu Panda.
For more information about Cupcake Digital Inc., please visit http://www.cupcakedigital.com.