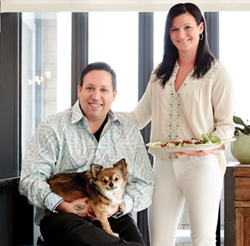 "I do travel and work a lot but whenever I'm not there, I'm here. It's relaxing to have a place to come and chill," says Isabella.
Rockville, Maryland (PRWEB) April 25, 2014
HOME & DESIGN's May/June 2014 issue hits newsstands shortly! This issue is packed with lots of fresh ideas to inspire your home renovation projects. The 2014 Baltimore-Washington Kitchen & Bath Association (NKBA) welcomed 96 entries from area designers in its annual competition, sponsored by HOME & DESIGN. See the 11 award-winning projects that will capture your imagination with their distinctive details, eye-catching aesthetics and well-executed plans. This issue also features a batch of fresh new outdoor products, which give summer its sizzle.
HOME & DESIGN Magazine also welcomed the inaugural issue of Chesapeake Views, a special magazine that is either bound into or mailed with each copy of HOME & DESIGN. While spotlighting spectacular homes around the bay, this new publication also offers expert advice on building in the region-along with the latest in furniture and accessories for seaside living and tips on food and travel.
An excerpt from the Private Tour article with DC restaurateur Mike Isabella:
When Home & Design last caught up with Mike Isabella at home, he had just finished a successful stint on Bravo's "Top Chef" and mused about opening a restaurant of his own someday.
Four years later, Isabella has opened not one but three DC hot spots—Graffiato, Kapnos and G. And in his spare time, he's written a cookbook (Crazy Good Italian), inked deals on three more restaurants slated to open this year and moved to a larger apartment with wife Stacy and their chihuahua, Santino.
Despite his frenetic schedule, Isabella carves out time to relax and unwind in their comfortable residence, located just across the street from their former abode. Chopping a Greek salad in his open kitchen and living area where floor-to-ceiling windows frame dramatic city views, he explains, "I do travel and work a lot but whenever I'm not there, I'm here. It's relaxing to have a place to come and chill. I grew up in Jersey and just love being in the city and having all the windows and getting that city feel."
Further magazine highlights include Luxe Style, where interior designer Roxanne Lumme combines comfort and sophistication in a family-friendly Falls Church home; City Living, where Douglas Burton imparts color and sleek style to NFL linebacker D'Qwell Jackson's hip DC condo; Beach Haven, where interior designer Erin Page Pitts evokes the seashore in an oceanfront Bethany Beach retreat and Historic Idyll, where landscape architect Richard Arentz breathes new life into a faded garden in Virginia.
Datebook keeps you abreast of the latest design and art happenings. As always, this issue's Indulgences section tempts you with the best of the good life in travel, toys, fashion and food. It's an issue you won't want to miss.
Enjoy!
24/7 design ideas at HomeAndDesign.com