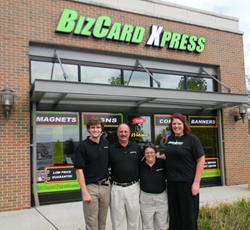 When [our customers] come to BizCard Xpress, they are investing in their own business by using our products to promote and build their brand.
Tampa Bay, FL (PRWEB) April 23, 2014
After experiencing continued success with each additional franchise location, BizCard Xpress has now announced that it plans to expand its influence into the Canadian market. With the launch of 25 new printing and sign centers within the U.S. over the last two years, BizCard Xpress has decided to add a new Vice President of Franchise Development with comprehensive experience in the franchise industry, Bryan Smith. His latest initiative has been to pursue BizCard Xpress' goal of increasing its reach outside of U.S. borders by penetrating the global marketplace.
Bryan Smith, was brought onto the BizCard Xpress' executive team in 2013 with an impressive 24 plus years of experience in developing and growing franchise operations, including 6 years of working in the Canadian market. From 2001 to 2007, Bryan served as the Vice President of Canadian Operations for Sign-A-Rama, a franchise operation that creates custom signs with locations in over 35 countries around the world.
At the time that Bryan took over the Canadian operations of Sign-A-Rama, the company had been struggling with only 6 franchise units remaining in the country. Sign-A-Rama brought on Bryan, a member of their executive team, to turn around its success in the Canadian market with the mission to improve operational performance while increasing brand awareness and reputation. Bryan left the country after serving 6 years as Vice President of its Canadian territory, bringing the total number of open locations to nearly 50 during his period of leadership.
Bryan has since accepted a position with BizCard Xpress to promote the same financial growth with a strong global presence. As a triple threat in the printing and sign industry, BizCard Xpress offers 3 key services rolled into one: printing, sign manufacturing, and promotional advertising. Bryan saw an opportunity to help develop this business franchise during its initial introduction to the international marketplace, joining BizCard Xpress' executive team with the vision and drive to spur the already impressive growth that it has experienced within American territory.
Its "Triple Play" model is smart yet intuitively simple: printing, signs, and promotional items, e.g. corporate wear and apparel, all available to customers under the same roof. Furthermore, the products don't end up costing the customers a dime once the return on investment (ROI) is realized. Bryan Smith remarks, "Our customers don't buy from our company. When they come to BizCard Xpress, they are investing in their own business by using our products to promote and build their brand."
BizCard Xpress is currently in the process of looking to put together a Canadian team of executives with either a Master License or Area Development License. Bryan is searching for potential leaders who are willing to learn and work as a team with him to develop the Canadian expansion of BizCard Xpress. The new corporate team will be building the BizCard Xpress brand with Bryan, who is well-versed in Canadian business practices with experience in the financing of franchise units within the market, as well as in developing a brand name into an industry leader.
For more information on BizCard Xpress' expansion into Canada and franchise opportunities, please visit: http://www.bizcardxpress.com/franchise.php, or contact Bryan Smith via phone or email. To learn more about BizCard Xpress and its assortment of printing and sign services, go to BizCardXpress.com.
About BizCard Xpress:
BizCard Xpress is a rapidly growing printing and sign franchise that offers custom-designed business cards ready in 1 hour or less, and extremely fast printing services for businesses and consumers alike. Its printing service includes copies, brochures, banners and signs, as well as an assortment of other marketing and advertising materials. BizCard Xpress offers a variety of items for promoting your business, event, personal product or invention, with over 800,000 promotional items in the forms of print, sign, decal, T-shirt, and more. For additional information, go to BizCardXpress.com.