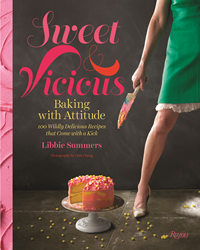 Interactive and irreverent cookbook filled with inventive recipes for baking that deliver a punch.
Chattahoochee Hills, GA (PRWEB) April 23, 2014
Libbie Summers joins forces with Serenbe for a Sweet & Vicious weekend. Libbie will be at the Serenbe Farm's Annual Plant Sale this Saturday, April 26th from 11 a.m. to 1 p.m. signing her new cookbook and offering tastes from her favorite recipes. Then on Sunday evening she will host a Sweet & Vicious Spring Dinner at The Farmhouse restaurant. A four-course dinner will be served under the lights in the garden beginning at 6:30 p.m. Vixon Vodka will be there to serve up signature cocktails. Dinner is $125 per person plus tax and gratuity and reservations should be made by calling the Inn at Serenbe, 770.463.2610.
Sweet & Vicious: Baking With Attitude is an interactive and irreverent cookbook filled with inventive recipes for baking that deliver a punch. Also, Libbie Summers, author of The Whole Hog Cookbook, is not your run-of-the-mill cook. Growing up, she was the kind of child who dunked her potato chips into chocolate syrup to see if it might taste good (it does).
That insatiable curiosity is what fuels this book. Sweet & Vicious is all about exploring new taste sensations in the realm of baking, both sweet and savory. It is a no-holds-barred approach to baking outside the box with crazy-brilliant combinations. Savory and spicy flavors come into play often, such as in Habanero Carrot Cake and Fig and Pig Pie; other times, the innovation comes in the form of a cooking method or serving presentation borrowed from another side of the kitchen, as with Meatball Muffins or Grilled Apricot Polenta Cake. There is also a healthy dose of humor sprinkled around with aptly-named recipes such as Gingerbread Working Girls, Preggers Pink Pickle Pie, and Salvation Cinnamon Rolls. Essential to Libbie's philosophy is that baked goods are supposed to be over-the-top, and that there is no point in firing up the oven if you are not making something so good it hurts. Sweet & Vicious brings a sense of adventure into the kitchen and some fun into desserts. Isn't that the whole point of dessert, after all?
About the Author: Libbie Summers first earned her culinary chops below deck as a chef on private yachts—honing her baking skills under extreme weather and guest conditions. Today, Summers is an award-winning producer of imaginative lifestyle content for print and film clients including Condé Nast Traveler, Bon Appétit, Huffington Post, Gilt, Southern Living, and Paramount Pictures. Her blog Salted and Styled (co-created with photographer Chia Chong) won the 2013 Best Food Blog award from the International Association of Culinary Professionals. Summers maintains her body and body of work are both food inspired. She lives in Savannah, Georgia, with one husband, one son, and one opinionated dog.
Libbie has a vivacious personality with a fresh style and original sensibility.
About Serenbe: Serenbe is pioneering a new community model connected to nature on the edge of Atlanta. A neighborhood where fresh food and fresh air make wellbeing as natural as nature itself. Set among acres of preserved forests and meadows with miles of nature trails that connect homes and restaurants with arts and businesses, Serenbe's architectural planning sets a new standard for community living and engagement by remembering the past.