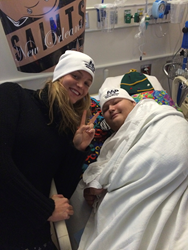 Roslyn, New York (PRWEB) April 23, 2014
Victoria's Secret model Erin Heatherton and The Northwest teamed up to surprise some brave young patients at Children's Hospital in New Orleans with Operation Comfort, The Northwest's new initiative to make people comfortable, no matter where they are.
Heatherton visited the sick children on the Oncology floor and made over their rooms with blankets, pillows, and bedding from their favorite sports teams and entertainment characters by The Northwest. The supermodel, who found the experience "life-changing," spent her visit smiling, chatting, laughing, and taking photos with all of the patients as she and the team from The Northwest changed the patients' rooms into their very own Comfort Zones.
Heatherton bonded with one young man in particular. In a follow-up email, Carolyn Cauttrell of The Children's Hospital wrote, "I have not seen him this happy since he was diagnosed! He is actually smiling and being social since y'all's visit!" And regarding a young lady she visited with, Cauttrell wrote, "She has not taken off her "Hello Kitty" hat for one second (literally) since Erin gave it to her. She tells EVERYONE about it. Y'all gave her such a positive memory in the face of her adversity! A thank you doesn't seem to be enough!"
Ross Auerbach, President & CEO of The Northwest, was moved by the experience. "The staff at the hospital is absolutely incredible and those kids are so brave. Seeing their faces light up when Erin walked in and when their rooms were transformed was really special. If we can make them even a little more comfortable when they can't be in their own homes, it is our privilege and honor to do so."
Based on the success of that initial experience, The Northwest plans to expand Operation Comfort to other hospitals and military bases throughout the year, enabling people to be comfortable, wherever they are.
To see a short video from Heatherton's visit with the children, please click here.
The Northwest (http://www.thenorthwest.com) makes home-based comfort products, such as officially licensed blankets, pillows, towels, beanbags and much more from America's favorite sports leagues and entertainment brands. The leading throw manufacturer in the United States, The Northwest is the exclusive blanket of the NBA, NFL, MLB and NHL, along with hundreds of collegiate teams.
Children's Hospital is a 247-bed, not-for-profit medical center offering the most advanced pediatric care for children from birth to 21 years. With over 40 pediatric specialties and more than 400 physicians, it is the only full-service hospital exclusively for children in Louisiana and the Gulf South.
Contact:
Howie Busch, (516) 484-6996, howie.busch(at)thenorthwest(dot)com
Kjersti O'Connell (516) 484-6996 ext. 246, kjersti.oconnell(at)thenorthwest(dot)com