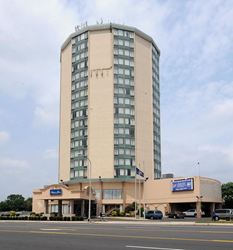 We intend to make sure that we deliver the best value for all our customers across the country.
Philadelphia, PA (PRWEB) April 25, 2014
Greenbee Parking, a fast growing airport parking service, has just announced a strategic partnership with Skyview Plaza Hotel in Philadelphia. Now travelers using the busy Philadelphia (PHL) airport can hope for easy, convenient, fast and very affordable airport parking every time they travel. The announcement comes with further discounts with the PHL airport parking rates which now makes Greenbee one of the most affordable parking service providers in the region. Their partnership with Skyview will allow the young company to offer some very unique services to their customers. For one, travelers who do not like the drama and dust can stay away from the airport hubbub completely and park at the relatively peaceful atmosphere of the hotel parking lot. These are also very secure locations especially for those who are using them for long term parking. The affordable prices are a bonus of course and what's more, one does not need to book a room at the hotel to get a great spot either.
"We intend to make sure that we deliver the best value for all our customers across the country," said Christine Cooper – Marketing Coordinator, Greenbee Parking. "Our partnership with Skyview Plaza Hotel in Philadelphia will help us expand our services and offer better solutions to our increasing customer base at the Philadelphia (PHL) airport. We have prided ourselves in offering the best and most competitive PHL airport parking rates."
Philadelphia International Airport Parking Information
Philadelphia International Airport is one of the largest and busiest airports in the country. Its strategic location, to not just downtown Philadelphia but the major Interstates 76, 95, and 476 and other busy cities in the Delaware valley region make it a preferred airport for both business and leisure travelers. More than 30.5 million passengers traveled through PHL in 2013 and increasing business shows that it will soon cross the $14.4 billion revenue mark that it sported last year. More than $1 billion have been spent in airport renovations in the last 10 years and more changes are slated in the future as well. Great advances have been made in parking efforts and in this they have been aided by private players as well. Greenbee Parking is one such popular name who has come up with innovative solutions at very affordable PHL airport parking rates. Now their partnership with Skyview Plaza Hotel will offer even more benefits for all PHL users.
The Greenbee Airport Parking Solution
Greenbeeparking.com is the connection between consumers and parking vacancies in close proximity to major airports and seaports. The parking spaces are very affordable because the company has negotiated discounted rates with major hotel chains for the parking spaces that are not currently occupied. Here's how it works.
Greenbee Parking puts the available inventory of parking spaces on their website to be reserved by business and leisure travelers looking for cheap airport parking. This alternative method for finding parking equates to significant savings for the traveler. You can learn more about their offers from (http://youtu.be/RWc3dqhugFA) or via the web at (http://www.greenbeeparking.com/).
About Greenbee Parking
Greenbee Parking is the nation's most innovative long term parking company, with a new way of making long term parking affordable. The company is rapidly adding new airports to its network.