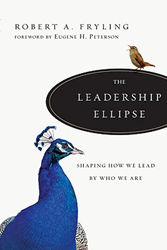 The Leadership Ellipse is a welcome corrective for both leaders and organizations that have struggled under leadership styles with a more singular focus. - Rachel Quan
Denver, CO (PRWEB) April 24, 2014
Renovaré is pleased to announce their latest Book Club selection, The Leadership Ellipse: Shaping How We Lead by Who We Are by Robert A. Fryling. Fryling, the President of InterVarsity Press, focuses on the tension between a leader's personal spiritual growth and the needs of the group being led. The Book Club session, which takes place online, begins on April 28 and will be hosted by Robert Fryling.
The Leadership Ellipse focuses on the difference between the view of leadership as a "bulls-eye" to be hit, meaning that one set of needs within the group are addressed, and the view that there are two focuses involved in leadership—those of the leader and those of the group. Fryling advocates the second type of leadership, as it allows everyone in the group to grow and find a satisfying experience within the group.
Rachel Quan, Renovaré's Executive Director, states, "Many Christian leaders find themselves isolated from the people they lead. This is not good in any organization or group, but it is especially negative for Christians since living in a loving community with each other is a fundamental part of the faith. The Leadership Ellipse is a welcome corrective for both leaders and organizations that have struggled under leadership styles with a more singular focus."
Book Club members will have the opportunity to not only read The Leadership Ellipse as a group, including times for questions and discussion, but Robert Fryling will lead the group. Members will be able to interact with the author, delving deeper into Fryling's experiences as well as the thought processes that lie behind the text of the book.
This Book Club session will take place online, meaning that anyone with internet access can take part. A webinar is included, as are three audio discussions of the book with the session host. There will also be articles provided to encourage deeper discussion.
Renovaré is a nonprofit Christian organization headquartered in Englewood, Colorado, and active worldwide. The ministry seeks to resource, fuel, model, and advocate more intentional living and Spiritual Formation among Christians and those wanting a deeper connection with God. A foundational presence in the Spiritual Formation movement for over 20 years, Renovaré is Christian in commitment, ecumenical in breadth, and international in scope. Renovaré was founded in 1988 by Celebration of Discipline author Richard J. Foster.