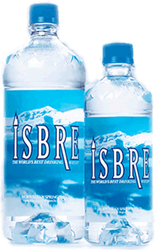 Isbre is the World's Purest Natural Bottled Water with a Crisp and Clear Taste
West Milford, NJ (PRWEB) April 24, 2014
The two most important factors for consumers when it comes to picking their preferred water are purity and taste. With the lowest amount of Total Dissolved Solids among all the natural bottled waters and its crisp and clear taste, World's Best Drinking Water from Isbre Springs will soon be available to the US consumers again.
Norwegian Glacier Water NA Corp, today announced plans to resume sales of water bottled at the Isbre Spring in Norway in the United States. The Isbre Spring is located in the glacier region of Norway at the end of the Hardanger Fjord on Norway's West Coast.
According to William Louttit, President & CEO of Norwegian Glacier Water NA, "At 4 ppm Total Dissolved Solids, water from the Isbre Spring is widely recognized as the Purest Natural Bottled Water in the World. This naturally pure water has a crisp, clear taste and significant health and wellness benefits"
Isbre Water was previously available in over 8,000 US locations including many well known supermarket chains, restaurants, health clubs and convenience stores.
Norwegian Glacier Water, A Norwegian company, is jointly owned by a group of Norwegian and Kuwaiti investors. NGW bottles and distributes Isbre Water to a number of countries around the world.
Isbre Water is currently available for sale in Europe, The Mideast and Asia. Norwegian Glacier Water NA Corp is the exclusive North American distributor of water bottled at the Isbre Spring. A nationwide United States rollout is planned starting in September, 2014.