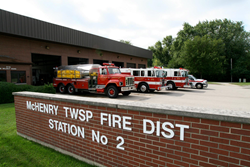 We cut our payroll processing time by approximately 100 hours every month because we are able to export the payroll data from Aladtec's Fire Manager.
McHenry, IL (PRWEB) April 23, 2014
When an organization can reduce the time it takes to do a task by 100 plus hours a month it's a big deal. "We reduced scheduling time by at least 12 hours for each schedule and we cut our payroll processing time by approximately 100 hours every month because we are able to export the payroll data from Aladtec's Fire Manager. Also, the accuracy of our payroll increased, since we weren't keying in the payroll data by hand anymore. Employees are much happier when they're getting paid the correct amount and bosses are happier when you're not overpaying people!" explains Mike Majercik, Battalion Chief, McHenry Township Fire Protection District, Illinois.
Many organizations have part-time employees and allow their staff to giveaway shifts, or trade shifts, with co-workers. When you are scheduling dozens of people on paper, trying to keep the schedule up-to-date, to accommodate trades, is nearly impossible. Therefore, another major benefit this agency values is the ability to track shift trades, between their 155 employees, within their Aladtec system.
"We use Aladtec Fire Manager to track all the duty trades. Before, all trades were done manually – on paper – and no one could keep track of any of it. Our schedule was out of date as soon as it was distributed because of shift trades. We have in excess of 100 trades every month. Thanks to Aladtec, we can now keep track of who is working for whom and adjust staffing accordingly - and the schedule is always up-to-date," adds Majercik.
When an organization schedules staff, makes shift trades, tracks certifications, etc. on paper - or only within their office computer system - both accuracy and accessibility is compromised. By using "cloud based" software programs maintaining and managing data is done in "real time" and all the information is easily accessible from any computer, smartphone or mobile device with Internet access.
"All of our employees like that they can sign-up and know where they have been assigned to work in real-time. By logging in from anywhere on their smart phones, they are able to sign up for shifts, see their station and vehicle assignments, as well as check their payroll hours using the program. The majority of our employees use the mobile web app. They love it," shares Majercik.
This agency also states they appreciate that Aladtec's Fire Manager offers them the ability to customize their system home page and run a variety of reports. They also utilize the event calendar, which they say has helped them centralize a lot of their department information.
Battalion Chief Majercik also indicates they were sold on Aladtec's Fire Manager after trying the free trial. "We researched several companies and chose Aladtec's Fire Manager because it best fit our needs and the price was fair. Because the system is subscription based, the fact that we didn't have to spent a lot on software up front was a big factor in allowing us to make the transition. We also like the fact that we never have to pay extra for program updates."
About McHenry Township Fire Protection District: It is located about 60 miles Northwest of Chicago in Northeastern McHenry County and includes seven Villages and Cities. Personnel are made up of both career and non-career firefighters, paramedics and EMT's. This agency receives nearly 5000 emergency calls a year while proudly protecting 56 square miles and approximately 60,000 year-around residents.
About Aladtec: Aladtec is the proud provider of online employee scheduling and workforce management software. Over 1000 organizations, from a variety of industries, count on Aladtec every day to help them save time and improve efficiency. For information about Aladtec's affordable industry specific options, please visit http://www.aladtec.com.
###
CONTACT INFORMATION:
Aladtec, Inc.
906 Dominion Drive
Hudson, WI 54016-4538
(888) 749-5550 Toll-Free
(715) 690-2300 Phone
(801) 406-5550 Fax
mellissa(at)aladtec(dot)com
info(at)aladtec(dot)com
http://www.aladtec.com