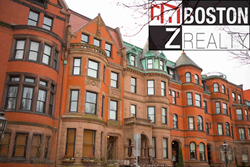 We strive to be the most knowledgeable, professional, and comprehensive real estate brokerage in Boston.
Boston, MA (PRWEB) April 23, 2014
Boston Z Realty is thrilled to announce the launch of the new Boston Z Realty website featuring a parallax scrolling effect. The company was in need of a refreshed online presence capable of engaging their target audience of buyers, sellers, and renters. Boston Z Realty enlisted the help of MMF Infotech as the perfect fit for their website reconstruction. Together, the two companies devised a strategy that would better encompass Boston Z Realty's brand and commitment to client satisfaction. "We strive to be the most knowledgeable, professional, and comprehensive real estate brokerage in Boston," said Dillon Currier, broker and co-founder of Boston Z Realty. "In order to fully align this standard across our business strategy, we wanted our website to perform as efficiently as our agents."
The new Boston Z Realty website utilizes parallax design to deliver an engaging, immersive web presence. Parallax design refers to the moving of a page's background elements at a different speed than the elements in the foreground. The Boston Z Realty homepage delivers a parallax experience that highlights the unique value of the brokerage in a controlled, organized way. When a user scrolls, the page automatically slides into place revealing a new section of content with visuals that spotlight a specific service offered or area served. The header and footer provide a consistent sense of architecture while the user navigates from any screen. The inner pages were created with a consistent design to the parallax homepage in order to strengthen the brand and provide clear content delivery.
Built with the integration of both YGL and Wolfnet IDX feeds, the new site also contains a blog, social media, and neighborhood landing pages. The website's uniquely intuitive design and comprehensive content architecture creates an easy and informative experience for visitors. Paired with a comprehensive, customizable home search tool, website visitors are able to quickly and easily find the information they require regardless of whether they are at home or on the go.
BZR would love to hear what you think about the new site. Get in touch and let them know on Facebook or Twitter.
Boston Z Realty was formed in 2012 by Dillon Currier and Wendy Heyman, and focuses primarily on residential home sales and rentals in Boston and the surrounding areas. Their motto, "Leaders with Integrity" is affirmed with their dedicated agents and staff and the superior service, quality, and ethics offered to their clients. For more information about Boston Z Realty, call (617) 262-2224, or visit them at http://www.BostonZRealty.com.