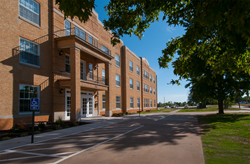 The residents all love their new homes in the historic Clay Hall.
Overland Park, Kansas (PRWEB) April 24, 2014
Cohen-Esrey Affordable Partners, LLC announced today that its Clay Hall project in Enid, Oklahoma has been recognized by the National Park Service as a Featured Case Study for its successful use of the federal historic tax credit.
Clay Hall was formerly used for dormitory housing on the campus of Phillips University. Decreased enrollment led to the building's closing in 1987, and Clay Hall had been vacant ever since. Cohen-Esrey Affordable Partners recently completed a total rehabilitation of the building, converting it to housing for low to moderate income residents over 62 years of age.
The success of the project was due in part to Cohen-Esrey's collaborative approach to development. In addition to Cohen-Esrey Affordable Partners, participants included tax credit partner Cohen-Esrey Capital Partners, LLC, and general contractor Construction Technologies, LLC. The property is now being leased and managed by Cohen-Esrey Communities, LLC. The project's general partner is PreservingUS, Inc. a not for profit organization dedicated to restoring historic structures, developing low income housing, and providing resident services. Construction financing in the amount of $5.8 million was provided by Bank of Oklahoma.
Ryan Huffman, the development partner in charge of the Clay Hall project, said "We are very proud of this project. The new residents all love their new homes. It was made possible by the timely and efficient construction by Construction Technologies and the efficient execution on the tax credit side by Cohen-Esrey Capital Partners."
Construction of Clay Hall at the former Phillips University began in 1941, stopped during World War II, and concluded in 1946. The dormitory—a restrained example of the Mission Revival Style—was expanded in 1951 and again in 1959. The most recent rehabilitation retained the historic windows, while adding storm windows for energy efficiency, removed an inserted soffit in the lobby, retained and repaired plaster walls, and uncovered a mantel. Individual dorm rooms were combined to make one- and two-bedroom apartments, while closets and other original features were retained, including full heights in the units (except in kitchens and baths, where ceilings were lowered). The corridors retained their full height and width. The stairs were retained, and common rooms fronting the stairs were kept as common rooms, including those leading onto the balcony above the main entrance.
All thirty of the new apartment units were occupied within three days of the project's completion, providing further evidence of the quality of the rehabilitation and the demand in Enid for this type of housing. John Hinman, the managing director of the project's general contractor, Construction Technologies, said "We truly get a kick out of bringing these historic buildings back to life. This is a special building due to the amount of historic fabric that we were able to maintain throughout the interior and exterior of the building."
About the Cohen-Esrey Family of Companies
Through their collaborative approach to affordable housing development, the Cohen-Esrey family of companies creates thriving communities that change people's lives. Active throughout the Midwest since 1994, Cohen-Esrey Affordable Partners, LLC has used low income housing and historic tax credits to create over 4,000 units of affordable housing for seniors and families. Working with countless individual investors, banks, saving and loans, insurance companies, pension funds, and a host of other multi-family housing owners, Cohen-Esrey Communities, LLC has managed a cumulative total of 467 apartment communities comprising more than 57,000 units and located in 173 markets. Its management portfolio has included garden apartments, mid-rises, high-rises, luxury apartments, condominiums, and cooperatives. Cohen-Esrey Capital Partners, LLC makes a market in various federal and state tax credits. Its principals have invested in approximately $310 million worth of tax credits since 2000. Acting as either a construction manager or a general contractor, Construction Technologies, LLC provides a cost-effective enhancement to new construction, renovation, and historic restoration of commercial and multi-family projects. More information can be found here: http://www.cohenesrey.com and here: http://www.ConstructionTechKC.com.
About PreservingUS, Inc.
PreservingUS, Inc. is a not for profit dedicated to restoring historic structures, developing low income housing, and providing resident services.
Our passion is to bring life back into our neighborhoods, while providing safe and affordable housing to many working and senior Americans.
To learn more about PreservingUS, please visit http://www.PreservingUS.org.