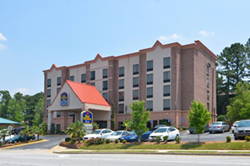 "We have always wanted to bring the best of comforts through our offers."
Atlanta, GA (PRWEB) May 01, 2014
Greenbee Parking, a fast growing airport parking service, has received positive comments in the latest ATL airport parking reviews. These reviews record the experience of all travelers who are using the Greenbee at the busy Atlanta (ATL) airport regularly and using the various parking services as well. Their experiences with Greenbee Parking, both in terms of options and affordable rates, have paved the way for a truly 21st century parking alternative. ATL is one of the busiest airports in the country and every new addition to parking, whether public or private, is of immense help. The young service provider may have been a recent entrant to this industry but has quickly made a name for themselves because of their out of the box offers and rates. They also come with a robust 24/7 customer service which simply adds to customer comfort.
"We have always wanted to bring the best of comforts through our offers and we are humbled by the recognition that the recent ATL airport parking reviews have given us," said Christine Cooper – Marketing Coordinator, Greenbee Parking. "The reviews have given us further motivation and impetus to come up with even more innovative and helpful options in the future."
Hartsfield-Jackson Atlanta International Airport Parking Information
The Hartsfield-Jackson Atlanta International Airport sees a huge volume of passenger footfalls as well as cargo activity every year. In terms of its size and the size of its business, it is now the leading airports of the country and one of the largest in the world. It acts as one of the most important American gateways and connects with all major domestic and international destinations on a daily basis. Atlanta's booming economy and thriving industries show why there is increasing business as well leisure travel figures every year. Following these figures, the airport has been subjected to major renovations and upgrades in recent years. These efforts also include its parking options which have seen rising demands with increasing footfalls.
Greenbee Parking is one of the major private service providers who have come in to aid in this parking expansion process. They have made it possible for their customers to save anything between 30-75% on their parking expenses, which shows why they have been hailed as the parking heroes in the latest ATL airport parking reviews.
The Greenbee Airport Parking Solution
Greenbeeparking.com is the connection between consumers and parking vacancies in close proximity to major airports and seaports. The parking spaces are very affordable because the company has negotiated discounted rates with major hotel chains for the parking spaces that are not currently occupied. Here's how it works.
Greenbee Parking puts the available inventory of parking spaces on their website to be reserved by business and leisure travelers looking for cheap airport parking. This alternative method for finding parking equates to significant savings for the traveler. You can learn more about their offers from (http://youtu.be/RWc3dqhugFA) or via the web at (http://www.greenbeeparking.com/).
About Greenbee Parking
Greenbee Parking is the nation's most innovative long term parking company, with a new way of making long term parking affordable. The company is rapidly adding new airports to its network.