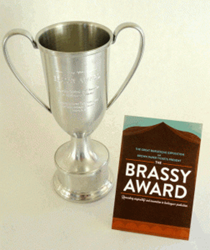 The Brassy Award was created to encourage and promote excellence in Burlesque event productions, in order to elevate the level of excellence in our field.
Seattle, WA (PRWEB) April 22, 2014
The Great Burlesque Exposition, one of the most prestigious burlesque festivals in the world, in partnership with Brown Paper Tickets, the world's leading ticketing partner for burlesque productions, are now accepting applications for "The Brassy Award," to acknowledge creativity in burlesque production. A cash grant, a mentorship with some of the nation's most successful burlesque producers and other prizes will support the production of an ultimate burlesque event.
"We want to inspire world-class innovation and originality in an effort to revolutionize burlesque productions and help the industry to continue its worldwide growth," said Scratch, the producer of the Great Burlesque Exposition. "By celebrating creativity and supporting the production of an ultimate event, we hope to bring the burlesque industry to new heights."
The Brassy Award winners will receive up to a year of mentoring by the Brassy Committee, as well as a special edition statue, cash to be used toward event costs, venue location services and publicity assistance provided by Brown Paper Tickets, as well as a full weekend admission to The Great Burlesque Exposition of 2015 (Feb. 20-22, 2015), where the Brassy Award winner will be announced. The Brassy Committee includes some of the most successful burlesque producers across the U.S.: Scratch, founding chair of The Great Burlesque Exposition and impresario behind The Boston Babydolls; Lili VonSchtupp, producer of Monday Night Tease, the longest-running weekly burlesque show in Los Angeles; Sailor St. Claire, Seattle-based producer of The Tuesday Tease, a weekly fusion of burlesque with the music of a live band; and Red Hot Annie, producer of The Windy City Burlesque Festival and the Vaudezilla shows.
"We all see the shiny performers onstage, forgetting the work that is needed to make the magic happen from behind the scenes," said Lili VonSchtupp. "The Brassy Award is how we can encourage and promote excellence in production through mentoring in order to elevate the level of excellence in our field."
"Brown Paper Tickets has empowered burlesque artists and event organizers for more than a decade by providing award-winning complimentary services," said Jimmy Berg, Burlesque Specialist for Brown Paper Tickets. Examples include social media promotion, regular burlesque blog posts, curated press lists, promotional counsel, a library of digital primers on best practices for event promotion and production, live 24/7 box office phone agents to assist event producers and ticket buyers, the industry's lowest fee for ticket buyers, donations to charity from every ticket sold, and more. "The Brassy Award is an expression of Brown Paper Tickets' unmatched commitment to fueling financial success and growth for the burlesque community."
"Burlesque event producers were largely ignored by ticketing companies eight years ago, when I started The Great Burlesque Exposition, because we weren't bringing in thousands of people," Scratch said. "Now, there are troupes in every city and festivals popping up all over the world. In its own way, Brown Paper Tickets is partly responsible for the growth of the burlesque scene. They're the only ticketing company that matches or beats the technical performance of other ticketing options while offering support that goes above and beyond for the burlesque community."
For further details on applying for The Brassy Award, please email the Brassy Awards Committee at Brassy(at)Burlesque-Expo(dot)com. All complete event concept submissions will be reviewed and evaluated by the Brassy Award Committee. For more information about The Brassy Award, visit http://www.BrassyBurlesque.com.
###
About The Great Burlesque Exposition (http://www.Burlesque-Expo.com): founded in 2007, The Great Burlesque Exposition is a multi-layered event which appeals to all aspects of the burlesque community, from audience to performers, beginners to professional performers and producers. The weekend consists of four shows, including The Main Event at which The Howard Awards are given out, a comprehensive multiday conference, social events, a vendor hall and exhibits of costumes and burlesque-inspired art. Participants at The Great Burlesque Exposition come from all over the world to join in the shows, parties and educational events.
About Brown Paper Tickets (http://www.BrownPaperTickets.com): Brown Paper Tickets is a socially conscious global leader in online ticketing and event registration services, helping people in 68 countries to plan, promote and sell out events. As a social innovator, the company donates five percent to charities with every ticket sold, supports a team of full-time community advocates, called "Doers," and still charges a ticketing fee than is lower than competitors. To learn more about the world's only Not-Just-For-Profit ticketing company, visit http://community.brownpapertickets.com/press/.