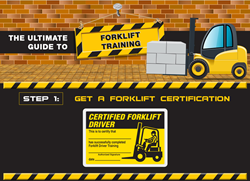 Savvy employees recognize that a forklift is a dangerous machine and safety is the highest priority.
Phoenix, AZ (PRWEB) April 23, 2014
ForkliftCertification.com, a nationally recognized provider of forklift training and online OSHA-approved forklift certification, has released The Ultimate Guide to Forklift Training.
This forklift training guide is available to the public and is packed with colorful visuals and information ranging from safety, to the types of forklifts. It serves as a supplemental item for those interested in the industry or those who already have their certification and looking for a reference for best practices.
Training should always include hands-on experience in the warehouse.
"Driving a forklift isn't as easy as it looks. Savvy employees recognize that a forklift is a dangerous machine and safety is the highest priority. While this guide can never replace actual training and certification, we wanted to provide this as an additional resource for individuals seeking more information about forklift management," said ForkliftCertification.com owner, Tom Wilkerson.
Other topics in the document include driving a forklift, operator responsibility and more. The guide also goes into technical portions such as setting down a load, evaluating controls and the difference between electric forklifts versus gas powered forklifts.
The themes of caution and safety are seen throughout the guide to keep it on top of mind for operators and employers.
"We're really proud of this end product as it promotes a wealth of important topics and focuses on how you can avoid injury or even death in the warehouse by using your common sense. We hope it will serve as a valuable guide to any employer that requires a forklift," said Wilkerson.
Individuals seeking more details about forklift training and certification can click here.
About ForkliftCertification.com
ForkliftCertification.com places a high value on safety and OSHA regulations and provides excellent information and training from the get-go. ForkliftCertification.com provides training materials to teach operators why it is essential to become familiar with the little quirks and characteristics of the workplace.