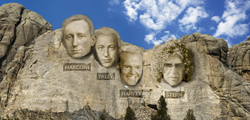 CRN considered contribution, influence, impact, stature and popularity
New Haven, CT (PRWEB) April 23, 2014
If the radio industry had its own Mount Rushmore, who would be on it? CRN International has provided an answer.
The 40-year-old radio marketing company has chosen inventor Guglielmo Marconi, business executive William S. Paley, conservative broadcaster Paul Harvey, and shock jock Howard Stern to gaze down from the industry mountaintop. There was no indication that the radio industry had ever named its own Mount Rushmore before.
The process began as a question CRN posed on various social media discussion groups. The topic drew many nominations and much heated discussion. CRN used the nominations for guidance in selecting what it felt was a representative Final Four.
"We thought the topic would be fun and thought provoking," said CRN Founder and President Barry Berman. "Being part of the industry for so long, we felt we had earned the right to offer our opinion on the subject. We specifically set no formal criteria but considered contribution, influence, impact, stature and popularity."
A who's who of the winners:
Guglielmo Marconi: The Italian electrical engineer known as the inventor of radio.
William S. Paley: The former CEO of CBS who recognized the business potential of radio and acted upon it.
Paul Harvey: The conservative American broadcaster who became a friendly and familiar voice to American listeners for generations.
Howard Stern: The controversial "shock jock" who helped steer our communications system to a greater open-mindedness by pushing the boundaries of freedom of speech.
Read the full blog for more information on the four radio trailblazers and their contributions.
About CRN International
CRN International is a leading, full-service marketing company that uses radio differently to solve marketing challenges for major brands. It is based in New Haven, CT, and has offices in New York; Minneapolis; Detroit; Houston; and Hershey, PA.