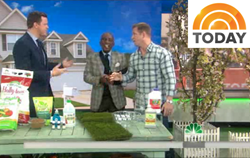 I'm so proud of our exceptional team and our superior products, and it's gratifying to me that our focus on quality, innovation, and integrity has brought us to this point.
Albuquerque, NM (PRWEB) April 22, 2014
ForeverLawn, the leader in artificial grass, is proud to announce its ten-year anniversary today. Grass products from the successful synthetic turf firm were featured on the TODAY Show segment, "What's really behind 'eco-friendly' and 'all natural'," with Jason Cameron, host of "Desperate Landscapes." Cameron joined TODAY to translate the latest "green" phrases, and demonstrate how synthetic turf is an ideal option for responsible landscaping.
ForeverLawn promotes responsible environmental stewardship through its line of beautiful, functional synthetic grass products. The remarkably realistic artificial grass products by ForeverLawn provide a long list of benefits, including water conservation, chemical-free maintenance, recycling, LEED® certification, and health and wellness advantages. Dubbed "grass without limits" by ForeverLawn, the artificial grass has been used in many unique and creative ways including rooftops, high-traffic locations such as theme parks and retail locations, pet facilities and dog parks, safety-rated playgrounds, and even indoors.
"It's a dream come true to see ForeverLawn reach our ten-year anniversary, and this level of success," said Dale Karmie, president. "I'm so proud of our exceptional team and our superior products, and it's gratifying to me that our focus on quality, innovation, and integrity has brought us to this point. The synthetic turf industry is thriving and growing, and we are proud to be a part of it."
ForeverLawn artificial turf products, including its popular DuPont™ ForeverLawn® Select Synthetic Grass line, require no water to maintain their lush, green, beautiful appearance year-round. The beauty and functionality of ForeverLawn products make them ideal alternatives to natural grass, that also save precious water. The Synthetic Turf Council estimates that between four and eight billion gallons of water were conserved in 2010 through the use of artificial grass.
Synthetic grass by ForeverLawn helps reduce the introduction of chemicals into the environment by eliminating fertilizers, pesticides, and weed killers that are commonly used to maintain natural grass landscaping. Since lawn care equipment is not required to maintain the landscaping, emissions are also reduced.
Throughout the past ten years, ForeverLawn has focused on recycling and the use of renewable materials in the production of its artificial grass. DuPont™ ForeverLawn® Select Synthetic Grass features a multi-layered backing system made from recycled and renewable materials. The final backing layer is comprised of recycled plastic bottles from Project Yellowstone, an innovative recycling partnership with Yellowstone National Park. A second layer uses BioCel technology created from soybean plants, a 100% renewable resource.
Green builders may utilize ForeverLawn synthetic grass to meet U.S. Green Building Council LEED guidelines. The use of ForeverLawn products may contribute towards satisfying credits under LEED in several categories including SS 61, SS 62, WE 1, MR 4, and MR 6.1.
ForeverLawn artificial turf also offers health and wellness advantages. The soft, resilient surface of synthetic grass does not harbor insects or contain allergens, is great to play on, and won't leave grass or mud stains.
For more information about ForeverLawn, visit foreverlawn.com.
About ForeverLawn
ForeverLawn provides innovative synthetic grass products to create better landscapes worldwide. In areas where real grass is difficult to grow or maintain—due to high traffic or poor conditions—ForeverLawn offers a realistic alternative that is beautiful, functional, and durable. In addition to its landscape lines, ForeverLawn also offers specialty products including K9Grass, SportsGrass, Playground Grass, GolfGreens, and SplashGrass.
ForeverLawn—Grass without limits. http://www.foreverlawn.com