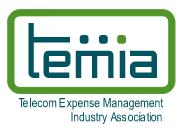 ... new additions to the board give us exceptional depth to promote the vision and values of the organization.
Westlake Village, CA (PRWEB) April 23, 2014
The Telecom Expense Management Industry Association (TEMIA), the authoritative voice for Telecommunications Management Solutions Providers and those in related areas hosted a meeting March 25 to 26 for its members. In total, 41 people from 28 different companies attended. The meeting included participation on insightful panels to advance industry knowledge and challenge common perceptions. In addition to networking with peers, members voted for representatives on the Executive Board.
TEMIA Executive Board members set direction for the association, oversee policy and provide leadership. Once a year a portion of the board is voted for a two-year term. This year,

Four current board members will serve the remainder of their two year terms. This includes James Price of ICOMM Consulting, who serves as executive board president; Ken Vanderhorst of WidePoint Solutions, as vice president; John Perri from Comview and Cameron Sowder, from Manage Mobility as at-large executive board members.
Ralph A. Rodriguez, New Technologies and Associates chairman and chief executive officer, said, "I am honored to be asked to join this prestigious board of executives. My goal will be to bring another point of view to TEMIA's Executive Board to help it broaden the mission."
"Erik M. Eames, chief executive officer of Wireless Analytics said, "I have some big shoes to fill taking over from Kevin Whitehurst as the new Treasurer. TEMIA has never been financially stronger than it is today. I look forward to helping the organization broaden the value it provides to the industry as we continue to grow our membership."
Steve Haddock, vice president of sales at MOBI Wireless Management said, "TEMIA's growing members is a "Who's Who of our Industry" and these true leaders are re-defining telecom management. I look forward to joining the Board and helping our members develop best practices and industry standards to improve the financial health and operational efficiencies for our Enterprise clients."
Christopher Thierry, of Etelesolv said, "As a Canadian-based member of TEMIA, I am pleased to serve another term in a leadership role and see a growing contingent of international companies join the association. TEMIA's growing importance in the industry in creating standards makes us extremely proud to be a member and represent the values of the association."
"The new additions to the board give us exceptional depth to promote the vision and values of the organization," said TEMIA managing director Joe Basili. The board also thanks Kevin Whitehurst from mindWireless who served two consecutive two year terms as treasurer.
In its eighth year, TEMIA is promoting telecommunications management and expense management process definitions that improve the quality and value that Solutions Providers deliver to clients.
TEMIA also looks forward to its next meeting September 7-10 in Las Vegas as part of its partnership with Super Mobility Week, powered by CTIA. The meeting will feature members who will participate on Thought Leadership panels.
About TEMIA
TEMIA's ongoing mission is to raise awareness, to improve the quality and value of solutions and to cultivate shared industry knowledge for Telecommunications Management, Telecom Expense Management, TEM, Wireless Expense Management WEM, Mobile Device Management MDM MMS and EMM solutions. TEMIA seeks to do this through the development and promotion of open industry standards, and industry knowledge among solutions providers, business partners, telecom service providers, and enterprise clients. Further, TEMIA members subscribe to a Code of Ethics, which clearly differentiates their level of commitment to their clients.
For more information about TEMIA, visit http://www.temia.org.