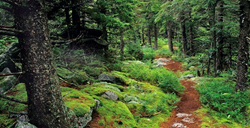 Pittsburgh, PA (PRWEB) April 22, 2014
AIReS has long held a commitment to corporate responsibility and actively supports sustainable initiatives in their business. Each office location embraces resource reduction and environmentally friendly processes, governed by the company's ISO 14001 registration. These day-to-day tasks keep AIReS' business growing, from simple things including electronic document management to reusable packing materials when completing a move, keeping every aspect of AIReS' operations as green as possible.
In support of this commitment, AIReS has made a donation to The Nature Conservancy that will help continue the organization's great conservation work in all 50 U.S. states and more than 35 countries around the world. The Nature Conservancy's preservation projects are quite varied and include large, complex initiatives like protecting endangered coral and grassland habitats to something so as simple as planting a new tree in a deforested region for simply one dollar.
To celebrate Earth Day, AIReS' donation will see that 1,000 new trees are planted and nurtured in areas where they are most needed. Reforestation is a large part of the work The Nature Conservancy does. The organization's ongoing Plant A Billion campaign has already, over the last several years, removed an estimated 15 million tons of carbon dioxide from the atmosphere annually.
The organization also saw to the protection of local watersheds, which provide clean water and hydro power to 70 million local residents of South American rain forests. Their projects in the U.S. focus on large scale conservation, and include helping create or expand national wildlife parks, in the states of Florida, Texas, Alabama, Mississippi, Louisiana, and even Mexico and the Caribbean shores.
About The Nature Conservancy
Founded in 1951, The Nature Conservancy is the leading conservation organization working around the world to protect ecologically important plants and waters for nature and people.
For more information on The Nature Conservancy, visit http://www.nature.org.
About AIReS
AIReS delivers best-in-class global and domestic relocation solutions and mobility program management. Having been recognized by Inc. Magazine, The Forum for Expatriate Management, and the International Business Awards for organic growth methodology, excellent client/vendor partnerships, and leading-edge proprietary technology, and achieving certifications and registrations with FIDI-FAIM, C-TPAT, and ISO, clients are assured a focus on quality and customer service excellence when partnering with AIReS. For more information, please visit http://www.aires.com.