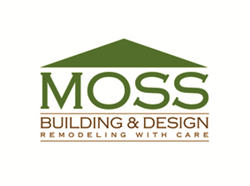 Chantilly, VA (PRWEB) April 24, 2014
Award-winning home improvement company, Moss Building & Design, is set to attend the Mid-Atlantic Parents of Multiples Convention in Herndon, VA on Saturday, April 26th. Moss will present their popular "Patch it" HandyMOM 101 workshop as well as a small presentation on remodeling trends from 10-12:15 p.m in the Luray room.
The "Patch it" workshop will cover patching holes of differing sizes in drywall as well as nail pops and dings in the walls. Attendees will get to see the process of patching a hole and will have the opportunity to ask questions about the process. They will also get the chance to implement the steps themselves alongside a Moss professional. Following the workshop, Dave Greksouk, Vice President of Sales, will present trends in home renovations and ways to make a home more functional for a family.
The convention is being hosted by the Loudon/Fairfax Mothers of Multiples whose parent organization is the Mid-Atlantic Parents of Multiples (MAPOM). The theme this year is "Putting on the Ritz" and is a chance for the organization to bring together the clubs of the Mid-Atlantic Region to share information and to learn more about topics that relate to parents with multiple children.
The convention takes place from Friday, April 25th to Saturday, April 26th at the Westin Washington Dulles Airport hotel located at 2520 Wasser Terrace, Herndon, VA 20171.
Moss Building & Design continues to meet the remodeling demand in Northern Virginia from additions to kitchen and bathroom remodels and basement remodels, to their Moss Home Services division with handyman services and smaller renovations and repairs. Homeowners are encouraged to contact Moss or visit the website at http://www.mossbuildinganddesign.com to learn more about Moss' remodeling services in Northern Virginia or to request a free consultation.
About Moss Building & Design and Moss Home Services:
For home improvement in Northern Virginia, you can count on Moss Building & Design. Moss Building & Design and Moss Home Services are an award-winning, family-owned residential remodeling and home services company located in Chantilly, Virginia.
Since 2001, Moss has established a reputation for excellence in remodeling additions, kitchens, bathrooms and basements and home services throughout Northern Virginia. Their customers see them as a trusted partner, and Moss is very proud of their exceptional 80% repeat customer and referral rates. Moss Building & Design has won consumer awards from Angie's List and also has an A+ rating from the Better Business Bureau, as well as many industry building and design awards.