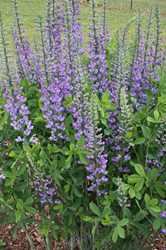 Raleigh, NC (PRWEB) April 24, 2014
Plant Delights Nursery, a worldwide mail order plant nursery, received the Direct Gardening Association's (DGA) annual Green Thumb Award in 2014. A panel of independent garden writers and editors selected Plant Delights Nursery's Baptisia 'Blue Towers' one of the five best new plant varieties for 2014. PDN's Baptisia 'Blue Towers', also known as false indigo, represents over a decade of hybridizing and subsequent plant evaluation in the trial gardens at PDN and at Walters Gardens in Michigan.
'Blue Towers' is an improved selection derived from a cross of two drought-tolerant US native species, Baptisia australis and Baptisia alba. The strong upright form of 'Blue Towers' will be welcome in gardens where other perennials are planted nearby. The beautiful deep indigo blue flowers, held above the spikes of bluish green foliage in spring, have a commanding presence in the garden and are a favorite of butterflies. 'Blue Towers' is ideal in climates prone to full sun and drought conditions, while also being tolerant of seasonally wet soils.
Plant Delights Nursery, Inc., specializes in rare and unusual perennial plants. Established in 1988 by Raleigh, NC native Tony Avent, PDN has also received numerous awards including:
• Perennial Plant Association Retail Award in 2011
• American Horticulture Society Commercial Award in 2002
• Garden Design Magazine 2010 - one of the Best Mail Order Plant Nurseries
Plant Delights Nursery, Inc. resides on the campus of Juniper Level Botanic Garden, a 10-acre non-profit research and display botanic garden located in Juniper Level, south of Raleigh, NC. The botanic garden features over 22,000 different and unique plants collected from around the world. Tony Avent and his wife Anita Avent oversee the daily operations for both PDN and JLBG.
The Green Thumb Award recognizes outstanding new garden products available by mail or online. The DGA, based in LaGrange, Georgia is the world's largest non-profit association of companies that sell garden products directly to consumers via catalogs and website.