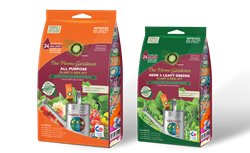 "We've taken the secrets of professional growers and created an easy-to-use 3 step system that delivers the home gardener 'supreme' results," said Jill Duggan, Vegalab CEO.
West Palm Beach, FL (PRWEB) April 22, 2014
Vegalab, LLC the formulator and manufacturer of environmentally responsible, all-natural agricultural products announces the launch of its new consumer gardening line, SUPREME GROWERS® at the National Hardware Show in Las Vegas, May 6-8, 2014 at booth #12246.
Making its debut is the SUPREME GROWERS® Home Gardening Kits that contain super concentrated fertilizers in powder form that are individually packaged pods (similar to a sugar packet). Each 5 gram pod yields a gallon of fertilizer by just adding water. The SUPREME GROWERS® fertilizer pods will revolutionize home gardening: no fillers, no bulky packaging, no synthetic chemicals – that's the power of pods!
New gardeners will be attracted to the all-inclusive kits because of the vibrant packaging and ease of use and experienced gardeners will recognize the naturally powerful ingredients: mycorrhizae, kelp, fungi and beneficial bacteria. The kits include OMRI listed pods which comply with organic standards. There are two kits to choice from: All Purpose Kit to grow fruits, vegetables and flowers, and the Herb & Leafy Greens Kit. Both kits include a proprietary 3-Step System that takes the guess work out of gardening and delivers fast results, the safe and natural way.
Professional farmers and landscapers all over the world use Vegalab products to grow an array of crops and vegetation.
"We wanted to tap into a new market and find a way to make our natural and highly effective products accessible to the home gardener. We've taken the secrets of professional growers and created an easy-to-use 3 step system which includes our super concentrated fertilizers that are packaged in convenient little pods that deliver big results," said Jill Duggan, Vegalab CEO.
SUPREME GROWERS® eco-friendly products are made in the USA and contain natural ingredients that are good for year round, indoor and outdoor use. They are formulated to provide the same high level quality results that commercial farmers are already enjoying in a way that's scaled for the everyday consumer.
SUPREME GROWERS® Home Gardening Kits will be exclusively distributed by Plastec Products, a leading gardening accessory supplier with a 25 year history of gardening innovation. This partnership will support SUPREME GROWERS'® aim to create a new standard of all-natural home gardening with its innovative fertilizer pods and specialized gardening kits.
"Our customers have always trusted us to bring them high quality and innovative products at a fair price, and in an environmentally friendly way. That's why we're so proud and excited to include the new line of SUPREME GROWERS® products that are safe, natural, innovative and effective!" said Susan Yeager, Plastec's Vice President. "It completes a line of products that bring the consumer ways to grow and decorate with plants, as well as to bring nutritious plants to the table."
"With the help of Plastec Products, we will quickly bring our new line of SUPREME GROWERS® Home Gardening Kits to market," said Jill Duggan, Vegalab CEO.
About Vegalab
Vegalab is a global leader in formulating and manufacturing environmentally responsible agricultural products rooted in sustainability. Their unyielding commitment to produce eco-safe, all natural products that are based on years biological research and patented technology have positioned the company and its Vegalab and SUPREME GROWERS® brands for rapid growth and advancement. The results are breakthrough products that increase productivity, decrease residue in crops, decrease waste and reduces the chemical footprint on the land. Vegalab is an agricultural destination for responsible solutions for farming, landscaping, gardening, and home horticulture. Corporate headquarters is Geneva, Switzerland managed by David Selakovic, President of Vegalab S.A. and North American headquarters is West Palm Beach, Florida managed by Jill Duggan, CEO of Vegalab LLC. http://www.vegalab.com
For more information contact:
Angela Betancourt, Communications Mgr.
Vegalab, LLC
angela.betancourt(at)vegalab(dot)com
(302) 298-0888 Ext. 704
###