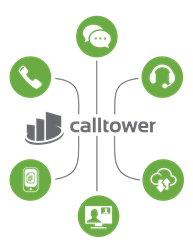 CallTower has been busy over the past several months adding additional levels of redundancy and building new products.
South Jordan, Utah (PRWEB) April 23, 2014
CallTower, a leading provider of integrated, cloud-based communications solutions announces a significant expansion of its carrier redundancy into its data centers along with the release of a new dynamic failover product, Managed Voice Continuity. These offerings help customers stay connected and gain a greater peace of mind with their communications provider.
Organizations deserve multiple paths to ensure 100% voice uptime. CallTower has expanded its offering to include a wide range of new circuit providers to offer carrier diverse flexibility and peace of mind. Whether choosing a redundant, carrier diverse circuit provided by CallTower or CallTower's new Managed Voice Continuity product, organizations can be rest assured they will be covered and connected 24x7x365.
"CallTower has been busy over the past several months adding additional levels of redundancy and building new products," said Bret England, CallTower's President and CEO "to ensure that we are providing the most reliable and robust integrated communication solutions available in the market today."
In the last year, CallTower has substantially expanded its carrier options. With fifteen different carriers to choose from, organizations can now afford to have a primary and redundant connections in the US and globally to ensure communication uptime.
To further safeguard voice connectivity, Managed Voice Continuity provides added resilience with more connections to the CallTower Core Communications Network. Managed Voice Continuity leverages the value of a non–CallTower data circuit by automatically switching the voice traffic from a downed circuit to an alternate Internet data connection. This is a cost effective solution for locations of up to 50 users where a carrier diverse, redundant circuit to CallTower is not available.
Managed Voice Continuity offers added benefits such as:
o Protection against network disruptions with immediate and dynamic failover
o Continuity of business-critical voice applications
o Cost savings for small businesses
o No customer intervention needed
o Ability to failover to any internet connection – DSL, cable, wireless
About CallTower, Inc.
CallTower is the leading provider of cloud-based enterprise-class unified communications solutions for growing organizations worldwide. We deliver integrated communication solutions to organizations utilizing best of breed technologies. We enhance our clients' strategic and business operational capabilities by integrating best of breed business phone service, mobile applications, email hosting, unified messaging, instant messaging, audio, web and video conferencing, collaboration tools, contact center, cloud services and global networks into one reliable platform.