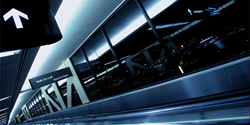 We want our customers to know the true meaning of convenience and comfort when they use our service.
Newark, NJ (PRWEB) May 13, 2014
Greenbee Parking, a fast growing airport parking service, has just announced that EZ Way Parking will be their new business partner in Newark. With this strategic tie-up in place, they can offer multifarious parking deals to all their customers who are using the hopping busy Newark (EWR) airport round the year. Travelers can now choose from varied options in both long term and short term bookings, as per individual needs. These offers make Greenbee stand out easily because very few other service providers can offer much discounts for short term customers whereas Greenbee has something for even the one time customer. At every step of the way their customers can expect cheap and discounted EWR airport parking rates, which will lead to big time savings for their annual travel budgets. Over and above all these, they can expect a solid and round the clock customer support system as well.
"We want our customers to know the true meaning of convenience and comfort when they use our service for their airport parking needs," said Christine Cooper – Marketing Coordinator, Greenbee Parking. "Our partnership with EZ Way Parking in Newark will ensure not just that amazing comfort but also unbelievable savings options for all with our very cheap EWR airport parking rates. We want our customers to experience that affordability and luxury can go hand in hand."
Newark Liberty International Airport Parking Information
The Newark Liberty International Airport is known as one of the busiest airports in the world and is a major gateway for all Americans traveling to various international locations. It connects with all leading global and domestic destinations which have nonstop flights running to and fro. Because of its strategic location, size and impeccable customer service it serves as an important hub by itself as well as one of the preferred alternatives to JFK. It sees over 34 million passenger footfalls annually which have in turn led to increasing demands for upgrading and improving the airport services as well. One area which has received major attention is the airport parking and has also been complemented with private service providers like Greenbee Parking whose innovative parking options and the cheap EWR airport parking rates have changed the way EWR travelers feel about parking in just a short time.
The Greenbee Airport Parking Solution
Greenbeeparking.com is the connection between consumers and parking vacancies in close proximity to major airports and seaports. The parking spaces are very affordable because the company has negotiated discounted rates with major hotel chains for the parking spaces that are not currently occupied. Here's how it works.
Greenbee Parking puts the available inventory of parking spaces on their website to be reserved by business and leisure travelers looking for cheap airport parking. This alternative method for finding parking equates to significant savings for the traveler. You can learn more about their offers from (http://youtu.be/RWc3dqhugFA) or via the web at (http://www.greenbeeparking.com/).
About Greenbee Parking
Greenbee Parking is the nation's most innovative long term parking company, with a new way of making long term parking affordable. The company is rapidly adding new airports to its network.