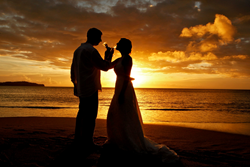 There will often be a pop of color that appears throughout the wedding. The shoes, the bouquet and the program may all have the same color – but everything else will be soft and subtle.
Miami, Florida (PRWEB) April 30, 2014
Softer colors, bigger budgets, and more guests appear to be the new trends for destination weddings in 2014 according to AskMeInc, a Miami-based company that specializes in destination weddings. Reflecting on the close to 800 weddings they booked in the in 2013, the team at AskMeInc share trends they saw in 2013 and what they are seeing more of in 2014.
Representing hotels in Mexico and the Caribbean, the destination wedding professionals at AskMeInc work directly with couples as they plan their destination wedding. As a result, they see big and small changes that appear as a common thread for destination weddings. Below, are the top changes they see for 2014.

Bigger budgets – in 2013, more couples were booking the mid-range wedding packages, an increase over 2012. "For 2014, we're seeing couples book destination wedding packages starting at $5000," said Marilyn Cairo, Managing Partner at AskMeInc, "That is an even greater increase and we see even higher level packages selling well." The Tailor Made Wedding package at Paradisus Resorts starts at $10,000 and includes an Open Bar BBQ the day before the wedding to welcome guests; the wedding day with all the details; and then a special day after the wedding for the newlyweds.
Less color – Blue has been a favorite color for couples, especially in the Caribbean with its blue skies and aqua seas. But the team at AskMeInc reports that more brides are opting for a softer almost neutral color pallet. "The colors are so elegant and muted it gives a vintage feel," says Hilary Lanzer, Managing Partner of AskMeInc. Lanzer sees more couples using khaki-colored burlap and raffia in their décor. "There will often be a pop of color that appears throughout the wedding. The shoes, the bouquet and the program may all have the same color – but everything else will be soft and subtle."
More Time – Couples are now planning multiple event days for their guests. Rehearsal dinners, a special excursion around the island, rum tastings, day-after brunches and more fun are filled into the destination wedding experience. One couple at Paradisus Playa Del Carmen had a tequila tasting for their guests, a perfect blend of local culture and fun. The Landing's St. Lucia offers the Iconic wedding package, priced at $439 per person, which includes a welcome reception and a brunch the morning after the wedding ceremony, a perfect response to the desire of couples wanting to have more events during their destination wedding. The wedding package also includes a bottle of Veuve Cliquot champagne in your room upon arrival, a romantic turn-down with candles and flower petals, a welcome reception, Marriage Officiant assistance and legal documents, a wedding reception (with Moet champagne, passed Hors d'oeuvres, a four course sit-down dinner, wedding cake and more); and a post-wedding brunch.
More Guests – In the last few years, the number of guests attending destination weddings has been relatively small. But for 2014, the number of people joining the destination wedding has grown. "It is a good sign that consumer confidence is up when more people join a destination wedding," said Hilary Lanzer, "Coconut Bay Resort in St. Lucia just booked a wedding where 36 guests will be joining the couple as they tie the knot."
Local – Couples are integrating more local flavor, culture, sounds and products into their destination wedding. One couple at Paradisus Palma Real in the Dominican Republic added a bottle of locally made Mama Juana, a mix of rum and local herbs and spices, to each welcome bag for their guests. Calabash Cove of St. Lucia offers a $1500 Wedding package that features a bouquet and boutenierre made from local tropical flowers which is quickly replacing the requests of coupels wanting non-native flowers flown in, often at great expense. "By using local flowers, there is less of a carbon footprint on the event, costs are lower and couples are supporting local vendors, so its win-win-win." The package also includes wedding cake an champagne, dinner for two as well breakfast in bed with champagne for the morning after the wedding, and the Marriage officer, licensee, registrar fees and certificate.
"A typical home-based wedding can cost $25,000 and often much more," stated Marilyn Cairo, managing Partner of AskMeInc, "So, splurging on a destination wedding is still saving them a lot in comparison to having one in their hometown."
AskMeInc is a Miami based firm focused on providing hotels and resorts in the Caribbean and Mexico with hospitality solutions. The company's turn-key systems offer professional representation, virtual call center services and grassroots marketing to maximize revenue and enhance visibility. AskMeInc has a division that specializes in destination weddings and romance travel. For more information, visit http://www.AskMeInc.com.