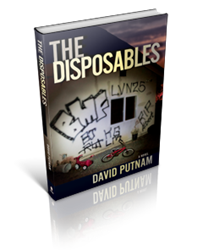 This novel gives off heat. —Booklist
Longboat Key, Florida (PRWEB) April 23, 2014
Oceanview Publishing will release THE DISPOSABLES, a thriller by David Putnam, in Hardcover (ISBN: 978-1-60809-118-8, 276 Pages, $26.95) and all e-Book/Digital Formats (ISBN: 978-1-60809-119-5, $14.95) on May 6, 2014.
Complete with rogue cops, a vigilante determined to make a difference, and plenty of action, THE DISPOSABLES sheds light on a corrupt and very ineffective system.
The Story:
(Synopsis supplied by Oceanview Publishing)
"Bruno Johnson, a tough street cop, member of the elite violent crimes task force, feared by the bad guys, admired by the good, finds his life derailed when a personal tragedy forces him to break the law. Now he's an ex-con and his life on parole is not going well. He is hassled by the police at every opportunity, and to make matters even more difficult, his former partner, Robby Wicks, now a high-ranking detective, bullies him into helping solve a high profile crime – unofficially, of course.
Bruno's girlfriend, Marie, brings out the good, the real Bruno, and even though they veer totally outside the law, he and Marie dedicate themselves to saving abused children, creating a type of underground railroad for neglected kids at risk, disposable kids.
Caught between police brutality, the demands of his rogue ex-partner, and the precarious circumstances of the children, Bruno is forced into a brutality of his own as he pulls out every stop to save these children from a warped system of justice."
The Buzz...
"This novel gives off heat…there are a number of unique and startling plot twists. But what really recommends the book is the high-octane presentation…the occasional clunky sentence doesn't detract. Rather, they add somehow to the sense of urgency and authenticity, the feeling that this is the real deal, set down by somebody who was there and still hasn't gotten over it. The SWAT-like assault on the crime house is an impressive set piece."
—Booklist
"Nonstop action keeps the pages turning at a furious pace in this debut ripped-from-the-headlines thriller showcasing the darker side of LA County's law enforcement. The positive Robin Hood hero contrasts with the drug culture; surprisingly mild language and most violence off-page will broaden the appeal. Think T. Jefferson Parker (Charlie Hood series) or Andrew Vachss. Putnam's police background adds to the authenticity."
—Library Journal
THE DISPOSABLES is distributed by Midpoint Trade, and is available through Ingram, Baker & Taylor, OverDrive, and other fine wholesalers, and may be found through all major retailers and public libraries.
About the Author...
David Putnam comes from a family of law enforcement and his career has spanned several roles and several states. He worked in narcotics, violent crime as part of an FBI-sponsored team, robbery, criminal intelligence, and Internal Affairs. He served three tours as a county sheriff, a stint as a SWAT team sniper, was a special agent for the Attorney General of Hawaii, has investigated white-collar crime, has rescued hostages, and has been a supervisor of corrections, patrol, and a detective bureau. While in these roles, he has received numerous awards and commendations. In short, David has done it all. He lives in southern California with his wife and fellow writer, Mary.
Requests for author interviews and appearances may be communicated to David Ivester at davidi(at)oceanviewpub(dot)com.