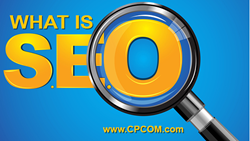 Our goal is to have your website listed and found by all search engines and to generate more website traffic to generate more business.
(PRWEB) April 24, 2014
The internet has empowered 94% of consumers to check for products or services they need by using a computer or mobile device.
In today's digital world, the lives of consumers and businesses online continue to evolve. People who use search to find products or services are using the keywords relevant to what they are looking for, and click on relevant search results shown. Needless to say, being at the top of that list is critical in reaching a customer and losing what could have been a sale. Data shows that listings on the first page get 59% of the traffic and a steep drop off rate occurs for subsequent page results, such as the second or third page.
What does it take to be on top of the search results? The Search Engine Optimization technique can make that happen through proven methods for optimizing a website to be search engine-friendly.
Award-winning CP Communications has been helping clients achieve these results. A division of CP Media Group, Inc., the team of web developers and SEO experts implement no less than the best SEO marketing techniques to make a website rank higher than millions of other sites when searched through relevant keywords.
In today's competitive world of online business, being on top of this list is priority. When a website is visible and easily to find, customers click that site for their needs and then decide whether or not to do business. That being said, the very first step in attracting customers is to be on top of the search engine results page.
"The goal of CP Communications search engine optimization service is to drive your website focused, qualified traffic that converts into sales for your company," said company owner Robb Capielo. "[We want] to have your website listed and found by all search engines and to generate more website traffic to generate more business."
The SEO team at CP Communications ensures that a client's website ranks high on major search engines like Google, Bing and Yahoo.
To implement sold SEO, CP Communications assesses an existing website, performs in-depth keyword research, optimizes the content of the pages, hands submissions to search engines and directories, and tracks results. For an SEO package with a starting price of only $500, website owners will get search engine ranking, optimization, web site promotion and submission.
CP Communications maintains a long list of satisfied clients. Renowned clinical psychologist and author Dr. Michael D. Yapko, PhD, who is a valuable part of that list, the team for their services they provided for his website: "I want to thank you for all your help and knowledge in putting together our new website. It looks great! It's clean, easy to get around and well put together in every way."
To find out more about the SEO services offered by CP Communications, please visit http://www.cpcom.com/website-services/seo-services/ for information on the company's affordable SEO packages.
About
CP Communications is dedicated to creating functional, successful, and award-winning websites for their clients: websites that not only stir the imagination, but catapult profit margins. The company offers services central to the development and construction of a website for mobile optimization, as well as website administration and marketing covering email campaigns, social media, media placement and other online marketing strategies.