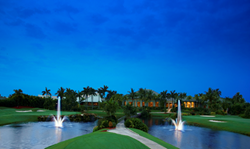 Boca Raton, FL (PRWEB) April 24, 2014
Boca West Country Club announced today that it has once again been awarded the prestigious Distinguished Emerald Club of the World award, as determined by the annual Distinguished Clubs of the World award program conducted by BoardRoom Magazine, one of the most respected trade publications serving private clubs.
For fine private clubs that operate at the highest standards, BoardRoom Magazine's Distinguished Clubs award program uses a club-specific rating system that recognizes that club, its management and its staff based on a proprietary criteria and evaluation process that distills and measures a club's Member Experience. As such, the rating system used by Distinguished Clubs is different from any that has come before, and with it, the private club industry now has the means to identify the top private clubs based on the most important aspect: Member Experience.
As defined by Distinguished Clubs, "Member Experience" is that special combination of "Qualities" that a private club provides its members. It is not just the quality of service, or of the facilities, or of the product provided, it is also the quality of the staff and of the management, as well as the overall club governance they deliver. The most important quality, however, is the quality of the intangible. While difficult to measure, the latter is comprised of those magic moments experienced, the members befriended, the memorable events and famous tournaments attended, as well as the club traditions, history and heritage proudly recognized.
About Boca West Country Club
Boca West Country Club, one of the nation's largest private equity owned clubs, spans 1,400 acres of lush tropical landscaping with an array of magnificent residences including townhomes, patio homes, villas, garden apartments and single-family homes. The Club's 54 private villages are bordered by four championship golf courses, 31 tennis courts, waterways and wooded areas.
About The Distinguished Clubs of the World Award Program
BoardRoom magazine developed the Distinguished Clubs of the World award program to recognize and share – with the private club industry as a whole – what it is that Distinguished Clubs do differently, and to do so with the specific goal of improving the Member Experience at every private club in America, and thereby helping to preserve the institution of private clubs for many future generations.
About BoardRoom magazine
BoardRoom magazine is the official publication of the Association of Private Club Directors and is published in print and digital formats, and shipped to 27 countries worldwide. BoardRoom magazine is now widely viewed as the most respected and influential magazine in the private club industry.