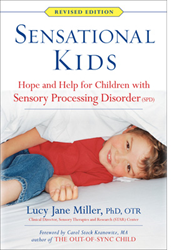 Denver, CO (PRWEB) April 23, 2014
Research and treatment of Sensory Processing Disorder (SPD) has come a long way since internationally renowned expert Lucy Jane Miller introduced her landmark book, "Sensational Kids, Hope and Help for Children with Sensory Processing Disorder," nine years ago. Sensory Processing Disorder is an increasingly common diagnosis, with a wide range of symptoms that can be difficult for parents to deal with and pediatricians to diagnose. Sensory processing is a term that refers to the way the nervous system receives messages from the senses and turns them into appropriate motor and behavioral responses.
The authoritative bestseller Revised Edition of "Sensational Kids" arrives on bookshelves on May 6 presenting the latest research on Sensory Processing Disorder, and detailing the new STAR Treatment Model, found to be effective in intervention for SPD. Professionals from around the world come to the STAR Center in Colorado to be trained in use of the new treatment model.
In "Sensational Kids" Revised Edition, Dr. Miller shares her more than forty years of experience and research on SPD including the most current information on identification and treatment options for the four major subtypes of SPD, training families to develop a sensory lifestyle, understanding brain differences among children with SPD compared to those with autism and ADHD, and strategies to help kids with SPD develop, learn and succeed in school and in life.
Co-authored by Janice Roetenberg, "Sensational Kids" is written for a broad audience—from parents and educators to clinicians—and includes new material for parents, teachers, and others who care for kids with SPD. "Sensational Kids" is a practical guide to identifying and treating this little-understood condition.
About the Authors
Lucy Jane Miller, PhD, OTR founded the Sensory Processing Disorder Foundation in 1979, currently serving as its research director. The SPD Foundation is the first comprehensive Sensory Processing Disorder research program nationwide. In this role, she directs research at the Foundation and is widely known for fostering collaborative research projects with major educational institutions such as Harvard, Yale, Duke and others. In addition, Miller founded the STAR (Sensory Therapies And Research) Center in Denver, the premier treatment center for SPD, where she currently serves as clinical director.
Janice Roetenberg is an award-winning writer, who has collaborated with Lucy Jane Miller to promote the important work being conducted at the STAR Center and SPD Foundation for several years. Janice earned her master's degree in marketing from the University of Colorado Denver and her bachelor's degree in business administration from Rutgers University.
About STAR Center
STAR Center, a Colorado 501(c)(3), is the premier treatment center for children and families living with Sensory Processing Disorder, feeding disorders, and other sensory issues associated with other conditions such as ADHD, autism, and a wide variety of additional developmental disorders. STAR Center offers intensive "burst" treatment that research shows is effective in treating issues related to daily life routines and roles (e.g. social participation, self-regulation, self-esteem, etc.) Parents are involved throughout the process so they can be empowered to create sensory lifestyles and continue to see progress after the formal treatment program ends. Dr. Lucy Jane Miller, founder of STAR Center and Sensory Processing Disorder Foundation, is widely recognized as the leader in Sensory Processing Disorder (SPD) research worldwide. For more information about the Greenwood Village, Colorado clinic, visit http://www.SPDStar.org.