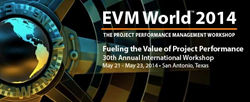 San Antonio, TX (PRWEB) April 24, 2014
The College of Performance Management (CPM) has announced the lineup of speakers for the scheduling track at EVM World 2014. Scheduling experts from across the United States have developed a track of 12 sessions dedicated to project and program schedules. The track was coordinated by the Project Management College of Scheduling (PMCOS) and will take place from Wednesday, May 21st to Friday, May 23rd in San Antonio, Texas. More information can be found here.
"Schedule experts from across industries are coming together at this event to share lessons learned, case studies and best practices," said Ms. Gwen Barger, Vice President of Programs for the PMCOS. "This is a tremendous opportunity for attendees. Effective schedules are critical for project performance management and truly are a part of Fueling the Value of Project Performance."
Specific Track Sessions include:

PMCOS Board, Panel Leading an Open Idea Exchange with EVM World attendees
Mr. Stuart Ockman, Ockman & Borden Associates, on Preventing, Identifying and
Quantifying Critical Project Delays

Mr. Tom Driscoll and Mr. Ken Baker, Hill International, Inc., on CPM – Its Genesis, Past,
and Present

Mr. John Homer and Mr. Lee Peters, ProjectLEADER, Inc., on Four Decades of Lessons
Learned

Mr. Mike Mosley Jr., Zachry Industrial, Inc., on Planning and Scheduling – Getting to
Earned Value

Mr. George McLaughlin, McLaughlin & McLaughlin, on Managing Large and Complex
Projects using Standard Project Control Tools

Mr. Paul Bolinger, Humphreys & Associates, on Selling and Telling with The Summary
Schedule

Mr. Robert Loop, DOE EVM Focal Point, on Viable Option or Gamesmanship?
Ms. Debra Sitzman, Raytheon Missile Systems, on An Exploration of Key Indicators to
Achieve Useful Status

Mr. Rob D'Onofrio, Capital Project Mgt., Inc., and Clark Thiel, Esquire, Jones Day, on
Modern Trends in Schedule Delay Analysis
The 30th Annual EVM World will take place May 21st through May 23rd, 2014, in San Antonio, Texas. The theme of the event is "Fueling the Value of Project Performance." EVM World is the premier annual event for project performance management techniques and earned value management. It offers outstanding training, excellent networking, in-depth sessions with leading experts, workshops, case studies and the opportunity to learn about the latest techniques and tools to improve project performance. Visit the EVM World website for more information.
The College of Performance Management (CPM) is an international, non-profit professional organization dedicated to the disciplines of earned value, performance measurement and project management. Headquartered in Alexandria, Virginia, USA, CPM is the world's leading source of education and information related to earned value management and other performance management techniques. For decades, the CPM Community has been responsible for leading, developing, promulgating and training people on the program management techniques used by the private sector, the U.S. Federal Government and around the world for successful program performance management. CPM is a growing body of professionals dedicated to managing projects that deliver the right outcomes on time and on budget. For more information, visit http://www.mycpm.org.
The College of Scheduling (PMCOS) is a brand new, international, professional association. Incorporated in November 2013, our mission is to provide a forum for Professionals to promote excellence in planning and scheduling through networking, sharing project experiences, providing and receiving training, and providing support and encouragement for the ongoing development of a body of knowledge. Already operating on three continents, the College urges anyone who is passionate about our mission to be a part of this dynamic organization. You will have an opportunity to put your own ideas into practice and potentially change the way scheduling is perceived in every industry around the world. For more information, visit http://www.pmcos.org.
Press contact: Mark Phillips, PMP, CPM VP Communications, at Mark.Phillips(at)mycpm(dot)org
Source: College of Performance Management