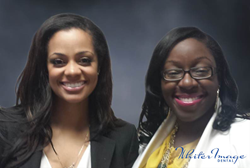 Brad creates a culture of diversity to include multiple perspectives
Atlanta, GA (PRWEB) April 24, 2014
Whiter Image Dental is benefitting from diversity in the workplace and is comprised of a 45 percent minority labor force including two recently promoted employees who attended the number one historically black college and university (HBCU) in the country, Spelman College. These employees, along with many others on the Whiter Image Dental team, create a culturally and ethnically-mixed workforce that welcomes the open exchange of ideas and perspectives.
CEO Brad Stevens has focused heavily on employee growth and has recently promoted Amanda Poe to Director of Marketing and Safiya Reid to Program Director, both African-American women. "Brad creates a culture of diversity to include multiple perspectives" says Poe. These perspectives have created a very ethnically and culturally diverse workplace where everyone appreciates an opportunity share a different angle when solving a marketing, customer service or other business issue. "We appreciate the contributions from the team and have found that this approach creates a strong culture with diversity and common goals of personal and professional success" says Stevens.
Whiter Image Dental's ethnically diverse culture has benefited the company greatly and saw them nominated to a spot amongst the Technology Association of Georgia's (TAG) Top 40 Innovative Technology Companies. The partnerships the company has engaged in recently include DentalMarketingStudio.com, DentalFinancialSolutions.com, Dental Savings Club, and select charities Whiter Image Dental will donate to as chosen by their clients when they purchase. These partnerships indicate their ability to create relationships that leverage the input and expertise of their entire team for the greater good of the company. Look out for more good things coming out of this Atlanta-based teeth whitening and marketing company as they elevate the ranks of some of Georgia's most talented professionals.
Whiter Image Dental is a provider of premium quality teeth whitening products and dental marketing services. To learn more about their services contact a Whiter Image Dental representative at 1-877-944-8330 or visit them at http://www.whiterimagedental.com/.