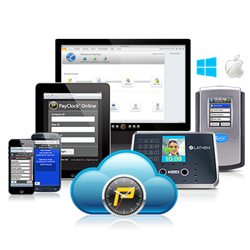 "PayClock Online has greatly improved our payroll process," said Meagan Bottrell, billing supervisor with Surgical Associates of Traverse City.
Atlanta, GA (PRWEB) April 23, 2014
Cutting back-office inefficiencies, Surgical Associates of Traverse City in northern Michigan has selected Lathem's cloud-based time and attendance solution, PayClock Online, to significantly improve its payroll process.
Founded decades ago, the busy surgical team has built a long-standing presence in its community, and keeps up with the newest technologies in the office and operating room. To increase efficiency, the practice wanted a time and attendance system that would automate payroll and offer a web-based solution. It chose PayClock Online to not only increase efficiency and save payroll time, but enable the practice to focus on what matters most: delivering the highest quality healthcare to patients.
"PayClock Online has greatly improved our payroll process," said Meagan Bottrell, billing supervisor with Surgical Associates of Traverse City. "Before, I used a pencil and calculator to add staff hours. As you can imagine, this was very time-consuming. With PayClock Online, my payroll time has been greatly reduced."
Bottrell said another significant advantage of PayClock Online is that staff can view their paid time off (PTO) totals in real time, replacing the printed spreadsheets they were provided by management on an as-needed basis. Allowing their employees to access time and attendance information without being able to edit saves managers additional time and headaches. Employees use their own PCs to clock in and out, view time and PTO records. Customized login rights can be set up to grant various levels of access.
Surgical Associates finds great value in that PayClock Online requires no desktop software to install or maintain, and future software enhancements and version upgrades are available automatically.
"PayClock Online is designed to eliminate the tedious and error-prone task of manually tracking employee time for payroll," said Lance Whipple, Lathem vice president, Sales and Marketing. "Most medical administrative offices are already overwhelmed with insurance, billing and compliance, so they need their payroll process to be as streamlined and effortless as possible. PayClock Online makes payroll easy."
About PayClock Online
PayClock Online is a cloud-based solution that enables businesses to manage time and attendance anytime, anywhere with an Internet connection. This web-based employee timekeeping system allows managers to quickly process payroll on their own time, when it is most convenient for them. Mobile functionality lets managers track remote employees' hours or administer payroll from their own mobile devices. It's easy to set up employees to clock in and out from their computers, mobile devices, or Lathem's badge or biometric time clocks. Employees can view their own worked hours and time-off information online without supervisor assistance. PayClock Online easily integrates with popular payroll software systems like QuickBooks. Lathem hosts PayClock Online on the web, so there is no software to install or network servers for businesses to maintain, eliminating any support burdens for a customer's IT staff.
About Lathem
Headquartered in Atlanta, Georgia, Lathem is the leading provider of durable and affordable timekeeping products for small business. Founded in 1919, Lathem remains a family-owned and operated US manufacturer. More than 1 million small businesses worldwide use a Lathem solution every day to help manage their business, including cloud-based time and attendance systems, wall clocks, and biometric and mechanical time clocks.
Lathem's commitment to high-quality manufacturing and customer satisfaction is reflected through its industry leading 6-Point Assurance Program™ that provides customers with unique benefits, including free set-up and installation and time clock system trade-ups.
In celebration of Lathem's 95th anniversary, Lathem has launched a year-long customer appreciation program that encourages small businesses to upgrade and automate to increase productivity and streamline the payroll process.