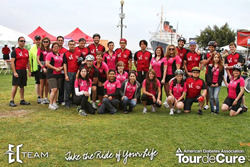 Being a part of the Tour de Cure has been a company tradition for six years and a great effort that parallels a philosophy that has been part of the company for more than 25 years
Los Angeles, CA (PRWEB) April 22, 2014
On April 27, 2014, El Clasificado will have more than 50 participants riding their bikes in order to raise funds towards the fight against diabetes and awareness about a disease that affects more than two million Latinos and 26 million people overall in the United States
This initiative has been an important part of El Clasificado's agenda for many years. In 2013, the largest Spanish language classified marketplace in the United States raised more than $23,000 on behalf of the American Diabetes Association and the "Tour de Cure Ship to Shore", a fundraising cycling event in Long Beach.
"We are proud of the continuous efforts our participants make to raise funds for the fight against diabetes," said Julian Dillon, Director of Special Events at the los Angeles office of the American Diabetes Association, " an initiative that encourages cyclists every year to give their best when riding along different routes in Long Beach and Los Angeles. Having that goal in mind, El Clasificado hopes to surpass its previous records for funds collected to support the initiative as well as total number of employees participating in the event, acting as a constant example of perseverance and dedication towards raising diabetes awareness and working towards a cure for this metabolic disease."
Riding as El Clasificado's team captain once again is the company's co-founder, Joe Badame, who is an avid cyclist and is committed to fighting diabetes. "Being a part of the Tour de Cure has been a company tradition for six years and a great effort that parallels a philosophy that has been part of the company for more than 25 years—to give back to the community that has given us so much and to fight for the causes that are worth fighting for, and this is one of them," explains Badame.
The Tour de Cure takes place in several parts of the country and helps raise awareness among 79 million people that are at risk of having the chronic disease. As with every year, participants are able to choose between 8, 11, 32, 61, or 100 miles, depending on their physical capacity. Everyone that rides receives food and water in order to regain their energy at several checkpoints in an event that encourages health and fitness on a Sunday for a great cause.
If you are interested in registering for the Tour de Cure, click here. For donations to this great cause, click here.
About El Clasificado
El Clasificado is an EC Hispanic Media company with advertising platforms in print, online, and grassroots events. More than 1.5 million readers utilize the free Spanish language publication every week. El Clasificado, a verified publication with a weekly circulation of 510,000, is distributed in over 300 cities throughout Southern California, the Central Valley, and now Yuma, Arizona. EC Hispanic media also owns the monthly publication El Punto and special supplement Quinceanera.com and the websites, Elclasificado.com, Pacoslist.com, Susociodenegocios.com, Alborde.com y Quinceanera.com.
About 'Tour de Cure'
The Tour de Cure is a series of fundraising cycling events held in 44 states nationwide to benefit the American Diabetes Association. The Tour is a ride, not a race, with routes designed for everyone from the occasional rider to the experienced cyclist. In 2013, more than 40,000 cyclists rode in 90 tour events to support the mission of the American Diabetes Association: to prevent and cure diabetes and to improve the lives of all people affected by diabetes.
Contact:
Alicia García de Angela, Director of Content and Communications at EC Hispanic Media and Su Socio de Negocios, mediarelations(at)elclasificado(dot)com, 1-800-450-5852.