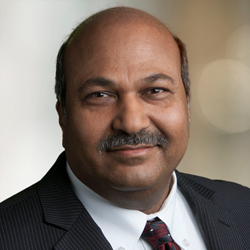 Santa Clara, CA (PRWEB) April 23, 2014
The CTO Forum today announced that Dr. Omkaram (Om) Nalamasu, Senior Vice President and Chief Technology Officer for Applied Materials, Inc. (Nasdaq:AMAT), has been appointed to the CTO Forum Advisory Board. The CTO Forum brings together senior technology executives, business leaders and academicians to discuss and collaborate on key technology issues and to accelerate innovation across organizations.
"We are very pleased to welcome Om to our advisory board. As a world-renowned expert in materials science and technology, and one of the industry's respected forward thinkers, his experience, vision and knowledge will be a tremendous asset to us," said Basheer Janjua, founder and chairman of the CTO Forum and CEO of Integnology Corporation.
"I am honored to join this distinguished group of dynamic thinkers," said Dr. Nalamasu. "The essence of open innovation starts with passionate people stimulating new and different ways of thinking. I look forward to exchanging ideas that address the world's most pressing technology challenges."
Dr. Nalamasu brings extensive experience and passion to his role as CTO of Applied Materials, a leading equipment supplier to the semiconductor, display and solar photovoltaic industries. He leads the development of disruptive products to address new markets and businesses, drives investments by Applied Ventures and secures government funds for strategic projects. Dr. Nalamasu has built a world-class team that maintains Applied's technology leadership in the industries it serves and enables its entry into new markets and businesses while achieving profitable growth.
Dr. Nalamasu has championed a renewed focus on Applied's innovation culture through various internal development programs and open innovation methods. He has also strengthened Applied Materials' strategic relationships with universities and research institutes around the world, including IIT Bombay.
In addition, Dr. Nalamasu has made seminal contributions to the fields of optical lithography and polymeric materials science and technology. His research interests include nanomanufacturing, nanopatterning, electronic and photonic materials, and lithography, with special emphasis on applying patterning and materials expertise for device fabrication of electronics, photonics and energy applications.