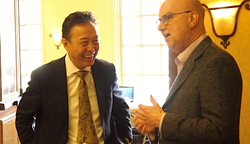 Santa Barbara, CA (PRWEB) April 22, 2014
Periodontist Dr. Dennis Shanelec, considered by many of his peers to be the 'father of microsurgery' in periodontics was the special guest speaker at the April 5-6 Chao Pinhole Gum Rejuvenation® seminar taught by Dr. John Chao in Alhambra, CA. "Dr. Shanelec addressed the doctors on the intersection of PST and microsurgery. Dr. Shanelec also shared his views on how Chao Pinhole Gum Rejuvenation® is changing the thinking in periodontics," says Dr. John Chao, inventor of the technique.
"Dr. Shanelec discussed the history of how gum recession traditionally has been treated and how Chao Pinhole Gum Rejuvenation® is the culmination of some of the best features of traditional techniques in correcting gum recession," says Dr. Chao. Dr. Shanelec now offers Dr. Chao's minimally invasive treatment to his patients at his practice in Santa Barbara.
Chao Pinhole Gum Rejuvenation® is a minimally invasive technique to correct gum recession without traditional gum grafting. The technique is receiving enthusiastic reviews from general dentists and periodontists around the world including Dr. Dennis Shanelec of Santa Barbara, CA. Dr. Shanelec is one of the most respected figures in periodontics and recipient of the American Academy of Periodontics (AAP) 2010 Master Clinician Award. The AAP is the official organization representing all periodontists in North America. Only one periodontist is honored each year as the Master Clinician of the Year.
Dr. Shanelec has trained over 600 dentists in microsurgery at the Microsurgical Training Center that he founded in the 1980s. Some of the most renowned dentists in the world have attended his seminars over the years.
"Chao Pinhole Gum Rejuvenation® is a breakthrough alternative to conventional gum grafting surgery. Treatment takes just a few minutes per tooth, and multiple teeth may be treated at the same time, all though 'pinholes' made in the gums which heal virtually overnight," says Dr. Chao.
Dentist and inventor Dr. John Chao holds patents on the method and the special dental instruments used in the Pinhole® technique. Dr. Chao is currently training doctors at bimonthly training classes in Alhambra, CA.
Dr. Dennis Shanelec's website address is http://www.implants.ws/.
For more information on Chao Pinhole Gum Rejuvenation®, visit http://www.pinholegumrejuvenation.com or call 888-603-2953.