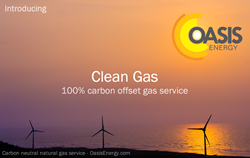 The carbon offsets we secure directly fund clean energy projects, allowing for more clean energy to be produced at wind farms and less dirty energy to be created from fossil fuel sources.
New York, NY (PRWEB) April 22, 2014
Oasis Energy becomes one of the first energy suppliers in the Northeast to offer 100% carbon offset natural gas plans. Oasis Energy's Clean Gas plans help reduce the overall effects of carbon pollution by neutralizing all of the estimated CO2 emissions associated with a customer's usage.
Reducing CO2 emissions is important to many consumers because carbon pollution and other greenhouse gases have been singled out as a major threat to the planet. High profile organizations and public figures ranging from NASA to the President of the United States have weighed in on the urgency needed to reduce our carbon pollution and the climate change it causes. Climate scientists have linked climate change to droughts, floods, rising sea levels, melting polar caps, extreme temperatures and intensifying weather events. Products like Oasis Energy's Clean Gas plans use carbon offsets to directly invest in and grow renewable energy projects like wind, solar, hydro and biomass. These projects reduce carbon pollution and help to create a safer, more stable world with new sources of energy.
If you've never heard of 100% carbon offset natural gas, you aren't alone. With their Clean Gas plans, Oasis Energy becomes one of the first suppliers offering the service.
"Offering innovative products and pushing new boundaries is great, but not without challenges. Like anything that's new, it takes a little while for consumers to discover that the new option is available, and it takes time to educate consumers on how the product works. The good news is that at this point, many consumers understand how renewable electricity works. They understand that windmills and solar panels are cleaner than electricity generated from coal and oil facilities. That's an easy and logical concept to grasp," explained Justin Snyder, Oasis Energy's National Brand Manager.
Snyder continues, "Oasis Energy's 100% carbon offset gas plans actually work in a very similar manner. Over a typical year, a consumer uses natural gas for everyday activities like washing clothes, cooking food, and heating their home. This usage literally results in tons of carbon pollution. Oasis Energy's new product helps completely offset these emissions. First, we review the consumer's annual natural gas usage and calculate their CO2 emissions. Then Oasis uses an equivalent amount of carbon offsets to neutralize the CO2 generated by that household's gas usage. The carbon offsets we secure directly fund clean energy projects, allowing for more clean energy to be produced at wind farms and less dirty energy to be created from fossil fuel sources."
Oasis Energy's Clean Gas products are available for both residential and business customers. Residential customers can currently check Clean Gas rates and sign up for service online at OasisEnergy.com. The site also allows small business and commercial customers to check rates and get custom quotes for green energy service.
This marks Oasis Energy's second major green product release in the last twelve months. In May of 2013 the company successfully rolled out 100% renewable electricity plans targeting environmentally conscience shoppers looking for affordable clean electricity. Oasis Energy has also accomplished another notable achievement. They've become one of the first and only energy suppliers to offer both green electricity and green gas in almost every market they serve.
"The environment is important to us. We know the environment is important to our customers. That's why last year Oasis Energy set a goal to have a green option for every service we offer. Not just for electricity but for natural gas too. The consumer gets to make the choice and they don't have to settle for a dirtier alternative because a cleaner option isn't available. We are proud we've accomplished this goal and it's only fitting that it's launching on Earth Day," said Snyder.
In the past many customers avoided green energy because it was too expensive.
Justin Snyder addressed this issues saying, "Most people want to make environmentally responsible decisions. The issue has always been the significant price gap between green energy and traditional fossil fuel based energy. We firmly believe consumers are willing to pay a little more for clean, environmentally friendly energy products, but the price difference has to be reasonable. Oasis Energy has narrowed this price gap. We're confident more consumers will choose renewable electricity and carbon offset gas now that the pricing is more competitive. If you haven't considered green energy in the past because of price, now is a good time to check Oasis Energy's rates. In some markets the difference between clean energy and traditional energy is as low as one or two percent. At that price we're hoping many consumers will be enticed to make the jump to cleaner energy. After all, everyone benefits from a cleaner world."
Oasis Energy on social media:
Twitter: https://twitter.com/OASISENERGYcom
Google+: https://plus.google.com/+OasisEnergy
Facebook: https://www.facebook.com/OASISENERGYcom
Pinterest: http://www.pinterest.com/oasisenergy/
Oasis Energy is committed to giving back to the local communities they serve by participating in community improvement projects, charity efforts, environmental awareness, and energy efficiency campaigns.
About Oasis Energy:
Oasis Energy is a leading supplier of electricity and natural gas to residential and commercial customers in New York, Pennsylvania, New Jersey, Maryland and Illinois. By offering competitive pricing on both traditional and green, fixed rate energy products, Oasis Energy has become a low-cost/high-value provider bringing energy cost savings to customers in every market they serve. Oasis Energy has a goal to make green energy financially accessible to everyone, and strives to offer the lowest rates on green energy plans in the markets they serve.
For more information on Oasis Energy's electricity and natural gas service visit: https://www.oasisenergy.com