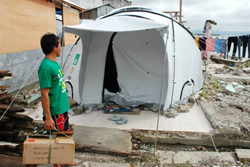 Nokero works out of three corners of the world to effectively provide solar lights and phone chargers to 127 countries.
Denver, CO (PRWEB) April 22, 2014
Nokero, short for "no kerosene" fights for lives free from polluting fuels. This Earth Day, Nokero celebrates with promotional offers through our online store, that allow more people to have access to environmentally friendly solar lights. Nokero also continues to remember and support those in the Philippines stillaffected by Typhoon Haiyan and in desperate need of light.
Earth Day began in 1970 as a way of reminding our global community why the planet is so important, during the same year that President Richard Nixon established the United States Environmental Protection Agency. Today, solar lighting provides alternative energy worldwide that eliminates fuels such as kerosene, which can be detrimental to those living off the grid or living in temporary shelters after a manmade or natural disaster.
Nokero works out of three corners of the world to effectively provide solar lights and phone chargers to 127 countries. Based in Denver, with offices in Hong Kong and Nairobi, Nokero manufactures "The World's Only Solar Light Bulb" and has become the premier provider of humanitarian aid lighting. Earth Day signifies a global celebration of sustainable energy and environmentally friendly products. One of Nokero's primary markets, the Philippines, is an important focus on Earth Day because solar light bulbs replace dangerous, polluting kerosene.
Nokero CEO Steve Katsaros recently traveled to the Philippines to evaluate firsthand the impact of solar light in the wake of Typhoon Haiyan. In the Philippines, kerosene costs an average of 52.90 Pesos per liter of fuel, 50 Pesos per lantern, and households consume up to 10 liters of kerosene per month through an average of 4 kerosene lanterns. The return on investment (ROI) for two Nokero lights to replace kerosene use in one Filipino household is just 55 days. Additional Nokero case studies found that in other remote areas, such as Panay Island, Filipinos rent generators for 200 Pesos per night, or USD$1,609.12 per year if they need to rent the generator every night. The ROI for two solar light bulbs in these regions is one week.
Elimination of kerosene is Nokero's focus on Earth Day as well as the rest of the year, because this fuel creates 260MT of annual carbon dioxide (CO2) emissions worldwide. According to the U.S. Environmental Protection Agency, CO2 is the primary greenhouse gas emitted into our atmosphere by human activity, and the emissions cause rapid climate change through atmosphere warming that puts the future of our planet at risk. Nokero's patented solar light bulb design requires nothing but natural sunlight as a source of power, and therefore they can greatly reduce CO2 emissions around the globe.
Five months after Typhoon Haiyan hit the Philippines, Nokero is still actively working with NGO and business partners to provide sustainable light. Together they have provided 23,038 solar lights to date. Current non-profit distribution partners include Habitat for Humanity, Shelterbox, One Heart for Hope Foundation, and Feed the Hungry.
Nokero plans to expand into new countries within the next year and continue providing solar light to the 1.3 billion people without access to electricity. In particular, they have plans to co-brand solar lights with NGO and business partners to encourage customer loyalty and corporate social responsibility when the lights are distributed within surrounding communities. These partnerships will allow solar lights and phone chargers to be distributed in more expansive regions and work toward the elimination of kerosene or other polluting fuels.