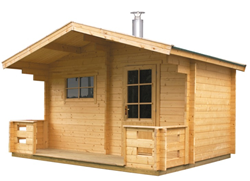 Demand for wood-burning saunas is growing, and these two models will provide some very nice options for our customers.
Renick, West Virginia (PRWEB) April 28, 2014
Almost Heaven Saunas, world leader in authentic sauna manufacturing, will introduce two new outdoor Finnish sauna models in May. The Allegheny and the Appalachian are both outdoor saunas designed to be wood-fired. The U.S. introduction of the new saunas is part of the recently announced distribution arrangement between Almost Heaven Saunas and the leading Finnish sauna manufacturer, Harvia Oy.
"Harvia manufactures an extensive line of saunas as well as its best-selling sauna heaters," said Almost Heaven Saunas president Rick Mouw. "Harvia saunas are very popular throughout Europe, but until now have not been available in North America. Distribution of these Finnish saunas will allow us to expand our product offering without investing in substantial equipment and manufacturing processes. I anticipate our sales of U.S.-made saunas to increase as a result, because a larger product offering will lead to increased sales in all categories."
Traditional "Log Cabin" Designs
The Allegheny is a four-person wood-fired sauna that has multi-level seating and replicates a "log cabin" in design. It is more of a traditional sauna room, reminiscent of the original saunas of past generations. The Appalachian has the same layout as the smaller Allegheny but incorporates a changing room in the design.
"These are very attractive, high-quality saunas." said Mouw, "Demand for wood-burning saunas is growing, and these two models will provide some very nice options for our customers. As are all saunas offered by Almost Heaven Saunas, the two new models are sold as do-it-yourself kits, with all of the cedar lumber pre-cut at the factory and designed for easy on-site assembly." Mouw reported that the company has seen sauna sales increase 30 to 40 percent in each of the past five years. "The American consumer is becoming more aware of the substantial health benefits offered by saunas," said Mouw. "Add to that the low cost of operation, and the lack of required maintenance, and the consumer has ample reason to want a sauna."
New Models Available in Late May
The company will receive its initial inventory of Allegheny saunas in late May and will continue building inventory in the U.S. operation to handle required sales levels.
Almost Heaven Saunas has been building barrel saunas from the finest cedar for nearly 40 years. The company sells its saunas worldwide and ships hundreds of saunas overseas each year. The company is known for high-quality, handcrafted saunas that are constructed at its factory in Renick, West Virginia.