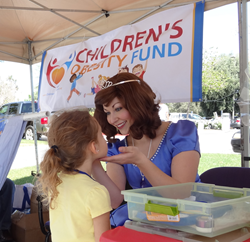 (PRWEB) April 23, 2014
The Children's Obesity Fund, cofounded by Dr. Michael Omidi and Julian Omidi, was a huge part of the hospital's joyful spring celebration for pediatric patients and their families. At Luke's Pride Spring Community Day, hospital supporters and neighbors band together to bring fun and joy to the patients and their families, diverting their attention from their health issues for a happy afternoon.
As part of the spring event on April 15, 2014, from 12:30-4:00 p.m., Children's Obesity Fund offered a fishing game with prizes that encouraged healthy, active lifestyles. The hospital's young patients and their families were brought outside to enjoy games, crafts, face painters, and many other fun activities.
The quarterly Community Day Program is coordinated by the Loma Linda University Children's Hospital Foundation and is made possible by organizations and local groups in the Luke's Pride program. These valued professionals, community partners and friends are the hospital's partners in transforming the lives of children and delivering on the promise of a healthier future. Participants of the spring event included Niagara Water, Farrell's Ice Cream Parlor, Arrowhead Credit Union, University of California Riverside Men's Basketball Team, Happy Hats for Kids and more.
Cofounded by Julian Omidi and Dr. Michael Omidi, the Children's Obesity Fund (http://www.childrensobesityfund.org) hopes to help reverse the trend of rising obesity rates in America. The goal of the non-profit charity is to help people fully understand the obesity issue and its dire impacts on individuals and society as a whole -- and to use that knowledge to encourage children to grow up strong and healthy. Children's Obesity Fund partners with other organizations to educate and support parents, educators and others so that we can all work together to raise healthy, active, social, and happy children. While the organization does not accept donations, it does encourage direct contributions of money and talents to the associations featured on our website. Children's Obesity Fund is on Facebook as well as Google+, Twitter, and Pinterest.
For more than 20 years, Loma Linda University Children's Hospital (http://www.lomalindahealth.org/childrens-hospital) has served as the Inland Empire's only children's hospital. One of the busiest children's hospitals in California, it serves nearly 1.2 million young people in the four county area of San Bernardino, Riverside, Inyo, and Mono. Loma Linda University Children's Hospital is a Level One Trauma Center with more than 275 beds just for kids. Every year, the skilled hospital staff treats more than 15,000 young patients during overnight stays and over 160,000 children who come in for ambulatory care. The facility has one of the largest neonatal intensive care units in the world, provides specialized medical treatment for pediatric cancer patients, and is a pioneering heart transplantation center.