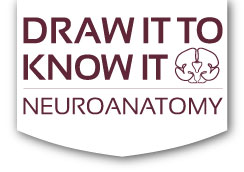 Since incorporating Draw it to Know it, student performance on exams in my neuroscience class has improved and is currently at its highest level in 10 years. - Gammon M. Earhart, PhD, PT, Washington University in St. Louis School of Medicine
Jackson, WY (PRWEB) April 23, 2014
Just announced, STAT!Ref now has the following new multimedia products: Draw it to Know it, BoardVitals: The Medical Specialty Question Banks and GME Pulse.
Draw it to Know it teaches neuroanatomy in a purely kinesthetic way. In using this resource, the user draws each neuroanatomical pathway and structure and in the process, creates memorable and reproducible schematics for the various learning points in Neuroanatomy in a hands-on, enjoyable and highly effective manner. Click here to see a video about how this resource works.
Key Features:

Active: Draw it to Know it provides a stepwise teaching method that is engaging, efficient and truly hands-on
Clinical: Learn neuroanatomy in a clinical context with numerous Clinical Correlations and Localization Cases
Comprehensive: 140+ Narrated Video Tutorials, Exams, Brain Atlas and Muscle-Nerve Directory
Mobile: Wherever, Whenever
Draw it to Know it provides students with active, self-directed learning that will complement a professor's lecture-focused teaching. With Draw it to Know it, students are easily able to prepare for class by completing a series of short tutorials that will improve their engagement in lectures and will boost their overall performance.
BoardVitals: The Medical Specialty Question Banks
BoardVitals: The Medical Specialty Question Banks strives to provide a high-quality, affordable, effective and powerful board review tool that can be used by practicing physicians, residents and medical students. BoardVitals Question Banks offer 24-hour access from a phone, tablet and computer to a huge question bank with a database of expert reviewed board questions. Click here to view a video about this resource.
Key Features:
Ability to create customized practice tests using many options including number or questions, subjects and more
Advanced statistics that illustrate where strengths and weaknesses are based on performance
Detailed, up-to-date explanations with each answer, with references and links to applicable sources
The very best questions brought together from the leading medical publishers, research institutions, and practicing physicians
'Quick Hit' section highlights the must know questions for the boards
BoardVitals students have a pass rate that is 8% higher than the national average
BoardVitals doesn't just provide a question bank, they provide up-to-date explanations from the literature with their answers and give detailed feedback and assessment of progress broken down by subject areas. The BoardVitals full-length practice exam is a great way to judge overall preparedness and compare to peers to estimate what a user's score might be on the real thing.
The BoardVitals content is referenced to many major dermatology, surgery, pediatric, cardiology, gastroenterology, obstetrics, gynecology, emergency medicine, internal medicine, family medicine, pathology, cytology, laboratory, psychiatry, neurology, and psychopharmacology texts and journals.
GME Pulse from Agile Medicine is an evaluation system designed specifically for graduate medical education, designed by physicians with ease of entry, detailed reporting, and efficiency in mind.
With GME Pulse, residency programs and faculty can save time and still capture comprehensive, clinical evaluations. With the intelligent analytics engine, information is automatically mapped to core competencies identified by accrediting organizations, including the ACGME Milestones. This saves time for program directors and staff by removing the manual effort needed to map responses from other electronic or paper evaluation systems.
Key Features:
Capture Clinical Competencies
Enter Evaluations from any Device
Map to ACGME Milestones
Easy to Manage and Export Data
Real-Time Statistics
Platform-Independent
Touch Support
Web Based
Simple Registration and Setup
Secure
STAT!Ref, the premier healthcare e-resource, enables users to intuitively cross-search full-text titles, journals and evidence-based point-of-care authoritative resources. With growing resources within a variety of healthcare disciplines, STAT!Ref provides the latest healthcare information in a customizable and convenient format. STAT!Ref is accessible by desktop, laptop and mobile devices.