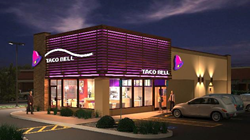 Irvine, CA (PRWEB) April 23, 2014
Taco Bell® Franchise Aksan United Fortune Inc. is proud to announce the much anticipated opening of its restaurant location at 8630 FM Road 78 and Crestway Road in Converse, Texas, which is set to open its doors on Sunday, June 8, 2014. The conveniently located new Taco Bell restaurant is under construction now and will showcase an exciting exterior look, the first of its kind in the San Antonio area.
Converse residents will now be able to enjoy the made to order and customizable menu items offered by the nation's leading Mexican-inspired quick service restaurant, including fan favorites such as the Doritos® Locos Tacos, gourmet inspired Cantina Bell® Menu and the lower calorie Fresco Menu.
"Whether you're coming in for a classic Taco Bell product, or you're ready to Live Más with a bold new flavor, we invite everyone to explore the variety of craveable menu items available at this Converse location. We chose to open a Taco Bell in the City of Converse because of its family-oriented, small town atmosphere," said Erik Moosa, President and CEO of Aksan United Fortune Inc. of San Francisco.
The restaurant will serve residents seven days a week between the hours of 7:00 a.m. – 3:00 a.m. and will bring over 40 new jobs to the Converse community. The design features a dining room that comes equipped with free wi-fi, power outlets and comfortable seating in order to provide Más for consumers' in-store experience. The drive-thru features an easy to navigate menu board complete with an electronic ordering system to ensure orders are made quickly and accurately.
Taco Bell is also committed to improving environmental sustainability. The new restaurant will feature LED dining room lighting and building signs, high efficiency air conditioning systems, water efficient landscaping, and energy efficient windows and roof tops.
"Taco Bell and Aksan United Fortune Inc. are proud to provide consumers with great tasting, high value, quality, quick service food. We look forward to delivering on our promise to passionately serve the guests, employees and community of Converse by taking a supportive and active role with the area," said Moosa.
Akson United Fortune Inc. chose to partner with Falcon Holdings in order to bring Taco Bell to Converse customers as quickly as possible. The construction process for the exterior shell of this franchised restaurant started on April 16 at 9:00 a.m. and was completed in just seven hours using new building technologies.
"The process integrates the work of at least seven contractors into one complete package," said David Fabian, Chief Development Officer of Falcon Holdings, Management LLC. "This potentially provides increased investment returns, instant marketability, higher building quality and reduced project scope for the franchise." http://www.falconholdings.com
"Falcon Holdings has now entered the development service world, and the raising of the new Converse Taco Bell® restaurant is the first step of Falcon's strategic plan to grow exponentially throughout the United States." – David Fabian
The new restaurant supports Taco Bell's ten year growth plan to add 2,000 restaurants and an estimated 100,000 jobs as stated early in 2013. The San Antonio area has achieved staying power as one of the most attractive environments for businesses and the City of Converse has a thriving business community with a variety of mom-and-pop shops and large manufacturers.
Please call Hayley Hughes at Levenson PR 214.932.6087 to coordinate interviews with VIPs Erik Moosa and David Fabian and to pre-arrange photo opportunities. Time-lapse video and high-resolution images of the Taco Bell construction site are available upon request.
About Aksan United Fortune Inc., Taco Bell
Founded in 2012 by Erik Moosa, 20-year restaurant veteran and CEO, Aksan United Fortune Inc. was established to operate franchise restaurants in the San Francisco DMA. Under the leadership of Ken Shirley, Director of Operations, the Aksan franchisee organization runs Taco Bell® and Pizza Hut® restaurants in northern California, improving bottom line profit while increasing same store sales. After achieving West Coast success, the firm has moved its focus to Texas including plans for four new opens in the San Antonio market during 2014, and more than 10 new units over the next three years.
About Falcon Holdings, Management LLC
Falcon Holdings Management LLC and its Chief Development Officer David Fabian are the operators of many restaurants along with being the provider of support services. Falcon Holdings Management provides development services to several different concepts including Long John Silvers®, A&W Restaurants®, and Schlotzsky's along with St. Louis-based big box retailer Here Today...®. Falcon Management development services have been contracted by Aksan United Fortune Inc., Taco Bell to develop 10 Taco Bell Restaurants in the San Antonio market. Falcon Holdings currently has four sites under contract. The successful development company works integrally with franchise organizations to further expand quick serve restaurant operations throughout the south, southwest and central regions of the United States. Visit http://www.falconholdings.com/ for more information.