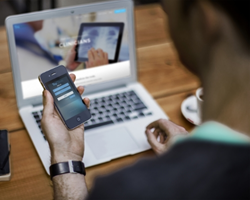 This is an easy technology to use; joining with TruClinic allows us to scale more rapidly and provide the very best in patient care. - Dr. Mohammed Sbia
Salt Lake City, UT (PRWEB) April 23, 2014
TruClinic announced today a partnership with the Zahra Charity to enable providers in Morocco and the US to collaborate in the delivery of remote neuro-rehabilitative care to patients through care teams on the ground in Morocco.
The Zahra Charity ("ZC") is an American non-profit organization founded by Dr. Jonathan Fellus, director of rehabilitation at the Meadowlands Hospital Medical Center in New Jersey and chief medical officer for the International Brain Research Foundation, and Dr. Mohammed Sbia, CEO of MS-Biotech, LLC. ZC is dedicated to building, managing and growing the infrastructure for specialized neuro-rehabilitative care through a new facility in Marrakech City, Morocco – The Moulay Ali Institute for Rehabilitation (MAIR).
Morocco lacks the trained personnel and facilities needed to provide access to neuro-rehabilitative services. As a result, children and adults with neurological disabilities, traumatic brain injuries (TBI), stroke-related disabilities, and spinal cord injuries have a low probability of receiving the necessary care to recover from their conditions. The vast majority of them end up severely handicapped, adding tremendous financial and emotional burden on their families and society.
ZC is addressing this severe deficit in neuro-rehabilitative care by using TruClinic to connect Moroccan care teams on the ground with providers in the US to ensure the delivery of comprehensive care to patients with neurological conditions. Additionally, the care teams will have access with the click of a button to experts in the US and the most up to date treatment protocol, training and research.
TruClinic provides a web-based technology through which providers, patients and care teams can connect face-to-face through high definition video conferencing and securely share care instructions and patient information. Dr. Mohammed Sbia is excited about the possibilities of using the TruClinic portal, saying, "This is an easy technology to use; joining with TruClinic allows us to scale more rapidly and provide the very best in patient care."
Justin Kahn, founder and CEO of TruClinic views the project as an example of the social impact that is possible with TruClinic's technology, saying, "This is an exciting opportunity to contribute to a good cause that is bringing necessary healthcare services to an area of the world that would otherwise go without. It's a fantastic demonstration of how TruClinic can benefit patients and providers regardless of location".
ZC has garnered support from organizations such as Rotary International, The Sorenson Legacy Foundation and The Association Grand Atlas in Morocco. ZC also works closely with non-governmental organizations (NGOs) in Morocco to expand its reach and impact. Her Highness Princess Lalla Zineb of Morocco heads one such organization, The Moroccan League for the Protection of Children, which provides care to children who were abandoned – many due to mental handicaps and neurological disabilities. By working with ZC, children in the program are able to receive the care they need.
About TruClinic
TruClinic™ provides web-based telemedicine solutions for providers and organizations in the healthcare industry. The company offers a secure, high definition video communication system, as well as a suite of practice management products that extend the reach of healthcare practices. TruClinic's mission is to make telemedicine available to everyone by providing simple, secure and convenient solutions. Follow us on Twitter (@TruClinic) or visit us online at TruClinic.com.
For more information, please contact Preston Robinson @ 877.340.0410 or probinson(at)truclinic(dot)com.