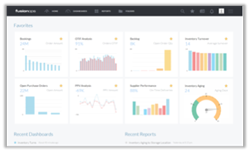 We're excited about the infographics capability in the new FusionOps release. It makes a big difference in visualizing how our efforts are related to improving key business processes. - Sunil Rajput, Head of Operations, Mahindra USA
Sunnyvale, CA (PRWEB) April 23, 2014
FusionOps®, the world's only provider of cloud-based, purpose-built supply chain analytics, today announced LiveAnalytics™, a new way to experience, navigate, and visualize supply chain data. Users can now easily combine images and live metrics to create infographics that add visual context to critical supply chain processes and workflows. Infographics are live and free form, giving organizations creative control over their look, size, layout, and color.
"Our customers described their supply chain challenges, and we listened," said Shariq Mansoor, founder and CTO of FusionOps. "With our new LiveAnalytics technology, we drive down the barrier to analytics adoption and make it easy for our customers to use metrics to drive their day-to-day supply chain decisions. Initial customer feedback has been extremely positive and we're gratified with the results."
LiveAnalytics strengthens FusionOps' unique capability of enabling interactive, root-cause analysis across the supply chain. Users can now visualize changes in their supply chain as they happen and immediately traverse through data from all functional areas to ensure continued operational efficiency. For example, FusionOps' users can rapidly determine that orders placed outside of lead times were responsible for missing on-time metrics; or lack of inventory was responsible for missing revenue goals. These capabilities provide insights and context not possible with the existing silo'd approaches to business intelligence.
Mahindra, the number one selling tractor brand in the world by volume, is a recent FusionOps customer. "We're excited about the infographics capability in the new FusionOps release. It makes a big difference in visualizing how our efforts are related to improving key business processes," said Sunil Rajput, Head of Operations, Mahindra USA.
HD Smith, a 60-year-old leading national health care distributor, has tested FusionOps new capabilities. "The new UI delivers the right key performance indicators in a fast, no-nonsense visual! This approach makes creating content easier than ever. Our users love it," said Todd Stille, Director of Enterprise Application Architecture, HD Smith.
FusionOps is also embedding powerful new features including Personalized Navigation, Alerts, and a comprehensive Key Performance Indicator ("KPI") dictionary:

Personalized Navigation: Personalized navigation functionality provides users with instant access to thousands of dashboards, reports, and KPIs directly from the main navigation and "Favorites" menus. Users can add an unlimited number of their favorite reports or dashboards to their personal home screen. Favorited items are summarized views of supply chain data that, when clicked, lead to more detailed dashboards or root cause analysis.
Alerts: The new Alerts feature enables real-time monitoring of supply chain events. When Alerts are triggered, users are notified immediately. Executives, in particular, can now rest easy that their supply chain is performing as expected unless, and until, they are notified.
Comprehensive KPI Dictionary: The new KPI dictionary provides clear insight into the business value and definitions of pre-built and company-specific metrics. Such definitions support corporate data governance requirements, and enable a common, transparent, company-wide understanding of key metrics.
These new features, along with LiveAnalytics, are available to FusionOps' customers now in Preview and are expected to be in production by June 2014.
About FusionOps
FusionOps is the only analytics solution that delivers complete supply chain visibility in a self-service, easy-to-use platform designed for business users. With a comprehensive portfolio of best-practice supply chain analytics as the starting point, global manufacturing supply chain and sales managers have immediate access to real-time data across the supply chain. Founded by a team of supply chain and enterprise software developers, FusionOps' patented, cloud-based SaaS platform delivers immediate value. Headquartered in Sunnyvale, CA, FusionOps, a Certified SAP Software Partner and Gartner "Cool Vendor," is privately held. For additional information, please visit: http://www.fusionops.com.